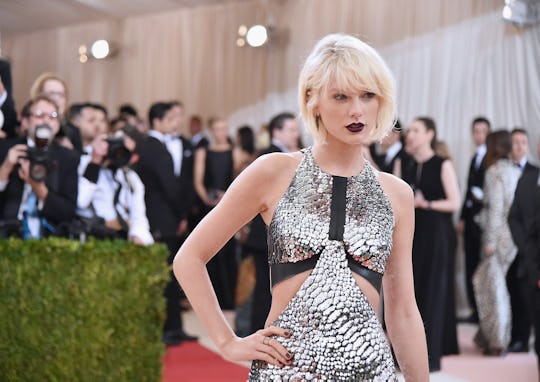 Mike Coppola/Getty Images Entertainment/Getty Images
Reactions To Taylor Swift's Music Video Show Are Intense
Thursday was a big day for Taylor Swift. That night, the crossover singer dropped her new single, "Look What You Made Me Do," from her forthcoming album, Reputation. The next day, Swift released a trailer for its music video, which premiered during MTV's Video Music Awards Sunday night. The teaser for the video had been both loved and lambasted by fans and non-fans alike, and reactions to Taylor Swift's "Look What You Made ME Do" music video are just as mixed.
People on social media were quick to point out that the video for Swift's "Look What You Made Me Do" had visuals similar to Beyoncé's video for "Formation," the powerful single from her stunning 2016 album, Lemonade. According to Uproxx, the broken glass, the grandiose throne, and how Swift is "squared up in an actual formation" in front of background dancers all recall images used for "Formation." Never mind that the outfits Swift and her dancers are wearing in the trailer for "Look What You Made Me Do" could be considered derivative of what Beyoncé wore during her Super Bowl 2016 performance.
For the most part, Swift's full video is not that much similar to "Formation," although it does recall some themes from Beyoncé's groundbreaking hit. Still, people on social media weren't quick to give Swift the benefit of the doubt.
Many people consider "Look What You Made Me Do" to be a new, more ominous direction for T-Swift. Vox called it "dark and petty as hell," which is a fairly accurate description when you listen to the lyrics. The 27-year-old entertainer is showing fans a scorned, vengeful side of herself that is hell-bent on revenge. For what exactly? Well, according to Rolling Stone, the running theory is that Swift is taking shots at her many public enemies (Kayne West, Kim Kardashian, Katy Perry, etc.), even though she, herself, has played an active — and proactive — role in the feuds. And it's clear by her official video that she is putting her enemies — particularly Kimye — on notice; at the end, she references Snapchat Gate involving Kayne and Kardashian outright.
Despite the song's mixed reception, the animated lyric video for "Look What You Made Me Do" already broke streaming records, according to the Washington Post. On its first day, the video was viewed more than 19 million times, making it the most-viewed lyric video on YouTube in a single day — a record held previously by the Chainsmokers and Coldplay's single, "Something Just Like This," the Washington Post reported. And, according to the Associated Press, "Look What You Made Me Do" had more than eight million same-day streams on Spotify, setting a new record for the music platform.
Love her or hate her, it's clear that Taylor Swift knows how to hook fans. And there's no doubt that people will be talking about the video for "Look What You Made Me Do" for weeks to come.