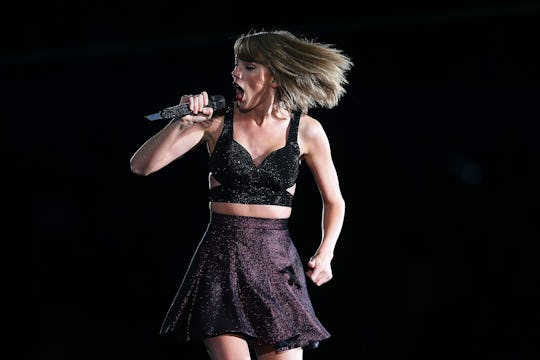 Reactions to Taylor Swift's "Out Of The Woods" Music Video Reveal How Much Fans Are Obsessed Already
OK, so Thursday night during Dick Clark's New Year's Rockin' Eve With Ryan Seacrest, one of the worlds biggest pop stars dropped a music video, and fans are barely holding it together. It would be the understatement of 2016 (calling it now) to say this video was amazing. And, as is usually the case when Swift makes any big move, the Twitter reactions to Taylor Swift's "Out of the Woods" video were most excellent.
It is safe to say that even T-Swift herself was psyched about this video. She teased the "Out of the Woods" video on Twitter twice in the past week and a half, leaving fans even more excited about New Year's Eve than they otherwise might have been. The fact that it's the video for "Out of the Woods" in particular makes it even more important. Even before 1989 went on sale, Swift was talking about this track. In October 2014, Swift shared the meaning of the "Out of the Woods" lyrics with Good Morning America, and they sounded pretty personal:
This song is about the fragility and breakable nature of some relationships. This was a relationship where I was kind of living day-to-day wondering where it was going, if it was going to go anywhere, if it was going to end the next day.
In late October 2015, Swift offered fans an amazing accoustic performance of "Out of the Woods," which is thought to be about Swift's relationship with Harry Styles, who she split with in January 2013. Styles seemed to confirm that in a November 2014 Google hangout chat on One Direction's Youtube channel. He said of 1989:
We write from personal experience, and I think everyone does, so it would be hypocritical of us to be like, 'Oh you can't write about us, And [Taylor's] really good, so they're good songs. I'm really lucky in that sense.
If that backstory wasn't enough to have fans hyped about "Out of the Woods," Swift collaborated with Jack Antonoff (of fun. and Bleachers) to produce the song. After Antonoff sent her the track, Swift reportedly took it from there, adding the melody and lyrics and transforming it into the hit we have grown to love. "I'm not used to writing to track. Like, I know it's done in pop music all the time, but I've never written that way," Swift said during a Grammy Listening Session in October.
The video clearly didn't disappoint:
And only adds to "Out of the Woods'" amazing-ness. It's no surprise then that, much like Twitter had plenty to say about "Bad Blood," fans are dropping some true gems about the latest '1989' hit to get a video:
I think it's safe to say they liked it.
Image: Graham Denholm/Getty Images