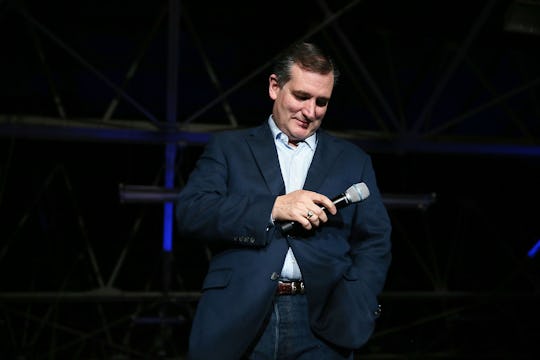 Joe Raedle/Getty Images News/Getty Images
Reactions To Ted Cruz Dropping Out Of The GOP Race Are Telling
On Tuesday night, the GOP race said goodbye to suspected (but unlikely) Zodiac killer and confirmed show-tunes lover Ted Cruz. After losing the Indiana primary to Donald Trump, the Texas senator announced that he was taking himself out of the running, shocking many who expected him to stay in it until the convention. Immediately, the Internet exploded with reactions to Ted Cruz dropping out, and Trump's now-almost-certain path to the nomination.
It had been clear for a while that Cruz would not be able to pick up the necessary delegates to win the nomination outright. Still, he and fellow non-Trump contender John Kasich had hoped for a contested convention, with Cruz going so far as to announce Carly Fiorina as his VP pick in recent days. But after campaigning hard in Indiana to no avail, Cruz could deny the terrifying truth of Trump's dominance no longer. Speaking to his supporters after Trump's landslide win in Indiana, Cruz announced, "With a heavy heart, but with boundless optimism for the long-term future of our nation, we are suspending our campaign." Then, he promptly elbowed his wife in the face while trying to hug someone, proving that maybe he really has been an alien just pretending to understand human contact this whole time.
There wasn't a whole lot of lost love for Cruz on social media:
And many had theories about what he'd be doing next:
But with Cruz's shocking announcement came a creeping certainty that no one can now prevent Trump from amassing the delegates he needs to win the Republican nomination. (Kasich is still in the race, at least as of now, but come on. Marco Rubio still has more delegates than he does, and Rubio dropped out months ago.) And so the gleeful goodbye Tweets turned into something else:
As for Donald Trump, he had some things to say upon hearing the news that his main rival had dropped out. And after spending most of the race calling Cruz "Lyin' Ted," insulting his wife, and linking his father to the JFK assassination, Trump's words on Tuesday night were remarkably civil, with the businessman saying that the senator "has an amazing future."
Trump's graciousness signals that he's begun making a play for Cruz voters, as well as other Republicans who have held out on their support until now, in order to build a coalition within the party. After all, barring some crazy twist of fate, he's going to be the nominee. Even the chairman of the RNC thinks so:
And so, farewell to Ted. Maybe now he'll have time to learn what a basketball ring is really called.