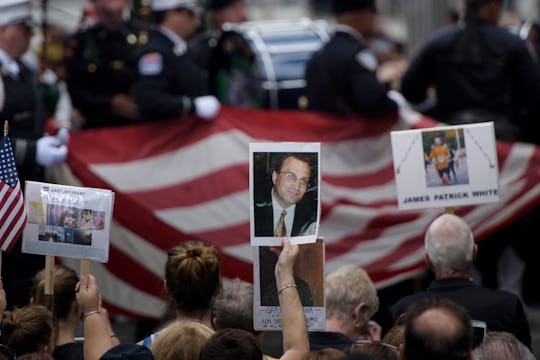 BRENDAN SMIALOWSKI/AFP/Getty Images
Reactions To The 9/11 15th Anniversary Show People All Over The Nation Will #NeverForget
Just 15 years ago, on a sunny day with clear skies, the United States came under attack. On that day, four separate planes crashed into the World Trade Center, the Pentagon, and a field in Pennsylvania. These blatant attacks on the nation were devastating, as thousands of people died and even more lost their loved ones. But one important thing did come out of the attacks — it brought the country together to support one another as everyone coped with loss. This is why reactions to the 9/11 15th anniversary show people all across the nation and even the world will never forget what happened that day.
A lot has happened since Sept. 11, 2001 but one thing seems to stay the same — each year on Sept. 11, we spend time thinking about the lives lost in the attacks and the heroes that risked their lives to save them. We think about the first responders, the fire departments and police departments, that rushed into the World Trade towers to find survivors and make sure everyone was ok. We think about the children who lost parents and the babies born who never knew their fathers.
And every morning on Sept. 11, we take a moment of silence to remember that. "We know that our diversity, our patchwork heritage is not a weakness, it is still and always will be one of our greatest strengths," President Barack Obama said in a statement Sunday morning. "This is the America that was attacked that September morning. This is the America that we must remain true to." Several people on Twitter joined with Obama to remember the losses on Sept. 11 and prove that we as a nation will never forget everyone and everything that happened that day:
Celebrities React
Politicians Speak Out
Twitter Remembers
If anything, Sept. 11 showed us how strong we are as a nation. If we can live through that day, and continue to relive the horrors of that morning each year, then we are much stronger than we realize. President Obama recognized those families who have to relive their nightmare year after year. "In your grief and grace, you have reminded us that together, there is nothing we Americans cannot overcome," Obama said during his speech on Sunday morning.
At times, especially during this election season, it often feels like we are a nation that is divided. However, 9/11 changes that and reminds everyone that we, as a nation, stand united through the most trying times.