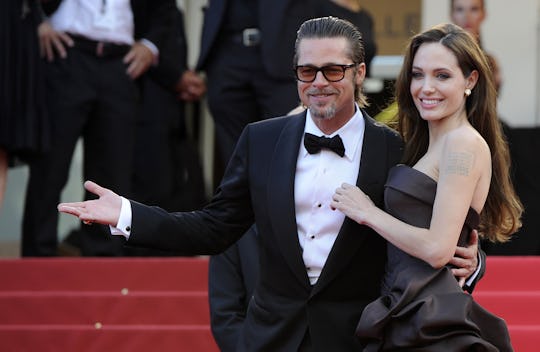 ANNE-CHRISTINE POUJOULAT/AFP/Getty Images
Reactions To The Angelina Jolie & Brad Pitt Divorce Show The Power Of Brangelina
And love, as we know it, has died. On Tuesday morning, TMZ broke news that Angelina Jolie and Brad Pitt are divorcing after two years of marriage. Known to the world as Brangelina, the reactions to Angelina Jolie and Brad Pitt's divorce prove that the world was not ready to see this Hollywood couple split and are feeling the pain.
Following TMZ's initial report, CNN confirmed that Jolie filed for divorce form Pitt, citing irreconcilable differences. In addition to serving her husband of two years with divorce papers, TMZ reported that Jolie is requesting physical custody of their six children — Maddox, Pax, Zahara, Shiloh, Knox, and Vivienne — and asking the judge allow Pitt visitation.
In a statement to People, Pitt spoke of the divorce with deep sadness:
"I am very saddened by this, but what matters most now is the well being of our kids. I kindly ask the press to give them the space they deserve during this challenging time."
Romper reached out to publicists and attorneys for both Jolie and Pitt, but have yet to hear back.
The couple, who People noted first met in 2003 on the set of Mr. and Mrs. Smith, has been in the headlined a lot lately for their supposedly shakey marriage. This past summer, sites like The Inquisitor and HNGN reported that Jolie and Pitt were either heading towards divorce, in the midst of divorce, or already divorced. In fact, the rumors were still ablaze four days ago when The Hollywood Gossip insinuated the couple was going through a $400 million divorce.
Unfortunately, what the world hoped to be rumors turned out to be true. Even as someone who vehemently waved the #TeamJen flag, I feel some sort of sadness as Brad and Angelina come to an end. Especially, since the two have always seemed so supportive and happy with one another. In a 2015 interview on The Today Show, Jolie spoke of Pitt's supportive nature during her battle with cancer. "he was on my side," she said. "This wasn't something where I was going to feel less of a woman, because my husband wasn't going to let that happen."
In that same interview, Pitt said that nothing — not even cancer — could tear their family apart. "Whatever's got to be done to keep the family together, and keep the family together as long as possible is going to be done," he told interviewer Tom Brokaw.
And together they stayed. After dating for 10 years and welcoming three kids into the world, Jolie and Pitt married in 2014, according to Us Weekly. The couple had been adamant about holding off on marriage until all couples could legally marry, but it seems like their love couldn't wait.
Which makes their divorce even more heartbreaking to fans of the couple, as evident by the numerous Twitter reactions.
Of course, there were those who could care less about the uncoupling of Hollywood's hottest pair.
And even a few who predicted it all along.
And then there were the #TeamJen members.
Regardless of your feelings towards the couple, it is never fun to see a family torn apart. It's important to respect the family's privacy at this time and hope that they can work things out for the sake of their children.