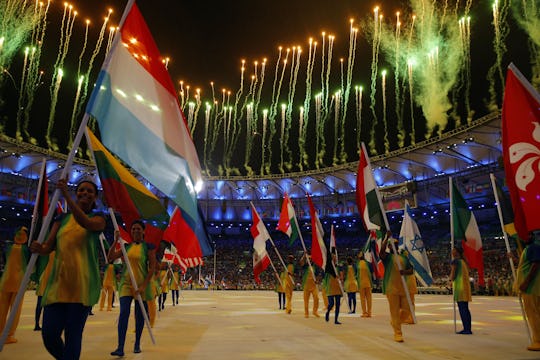 ODD ANDERSEN/AFP/Getty Images
Reactions To The Closing Ceremony Stadium Looking Empty Don't Bode Well For The Event
The Olympics came to a close Sunday night, and Rio wanted to go out with a bang. Brazil clearly prepared a spectacular, with parrot costumes, amazing formations, and Carnival-like celebrations. But unlike with the opening ceremony that took place on August 5, the closing ceremony stadium, looked empty – and observers took notice.
Apparently, the Maracaña Stadium sold over 41,000 tickets for the event, but the venue seats over 75,000. Accordng to CNN, tickets were available until the last minute for anywhere between $187 to $936.
Creative supervisor for the closing ceremony, Rosa Magalhaes, told CNN that there would be some "melancholy" in the ceremony. "It will close a circle with Olympic flame being extinguished, so there's a bit of melancholy because the flame represents the period of the Olympic Games," she said. She also acknowledged some challenges Maracaña Stadium presented, such as its door. "We can't do anything larger that 4.5 meters or there will be a risk of that getting stuck," she explained.
The apparent rain during the event could have been a hinderance as well. According to The Daily Mail, this was not just a drizzle – but a rainstorm during the closing ceremony. Torrential rains put a damper on both officials and spectators. Power lines went down close to Maracaña Stadiumdue to the rain and high winds, which instilled fear that it would happen inside the stadium as well.
It was not just the closing ceremony that had empty seats, but events during The Games as well. FOX reported that even those for famous athletes, like Usain Bolt, were not sold out – despite what officials said. Bolt took to Twitter to urge people to buy tickets: "Make sure you buy tickets and come out and watch," Bolt said. "It's going to be great."
Those who did buy tickets to the games learned that they did not have to spend much. Luiz Hernandez, a Colombian, told FOX that he was able to buy wrestling tickets for around $49. Not only that, but FOX noted that the majority of tickets given out to local children in Rio – for free – were not used.
It seems that this trend remained for Sunday's closing ceremony. Many took to social media to express worry over why so many seats were empty:
According to CNN, Rio pushed to fill seats with free tickets, but it may not have been successful. BBC reported that Olympic officials hope that the empty seats – both at the ceremony and the games – would not be apart of Rio's legacy. And given the exciting performances that happened during Sunday's event, it's likley people will forget about the amount of people who saw it in person.