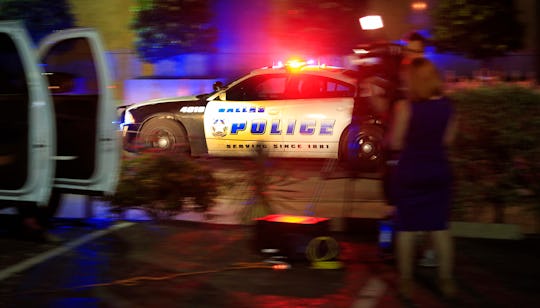 Ron Jenkins/Getty Images News/Getty Images
Reactions To The Dallas Shootings Show Shock, Heartbreak And The Need To Come Together
Update: Authorities have identified the deceased suspect as Micah Zavier Johnson, 25, an Army reservist with no criminal history or ties to terror groups.
Late Thursday night, during a peaceful demonstration in which people from all walks of life marched in protest of the fatal police shootings of Alton Sterling and Philando Castille in Dallas, TX, shots rang out ending in more loss of life. While marchers were shouting, "Hands up! Don't Shoot!" and even pausing to take pictures with members of the Dallas Police Department, snipers reportedly started firing from "elevated positions," shooting 11 police officers and killing 5. Three people are in custody, although the total number of suspects involved remains unknown. The reactions to the Dallas shootings provide an even larger picture of the anger, fear and collective heartbreak communities across the country are experiencing, as every morning we, as a nation, seem to wake up to more devastating news, more loss of life and more gun violence.
According to authorities, some of the six injured officers are in surgery. Initially, 10 officers were shot, while the 11th officer to be injured was shot during an exchange of gunfire with one of the now detained suspects. Dallas police negotiated with one particular suspect in a parking lot downtown for hours, before that suspect died. Police have yet to say how that suspect died, but do report that the suspect told negotiators, "The end is coming."
That chilling sentiment seems to be mirrored by heartbroken, terrified and angry citizens across the country. As more human life is lost and as more people feel divided, concern and grief was shared on social media as soon as the news of the shootings broke, and well into Friday morning. Perhaps that is what will bring the country back together, the collective grief we share and the immediate need for this senseless violence to end. Here are just a few reactions:
President Obama has called the attacks, "despicable, calculated and vicious." As the investigation continues and the city of Dallas, as well as the entire country of the United States, continues to grieve and attempt to come together, many are looking for the good in the middle of so much hate and loss of life.
As the country continues to mourn so much loss of life in such a small amount of time, we all find solace in the collective hope for peace and justice.