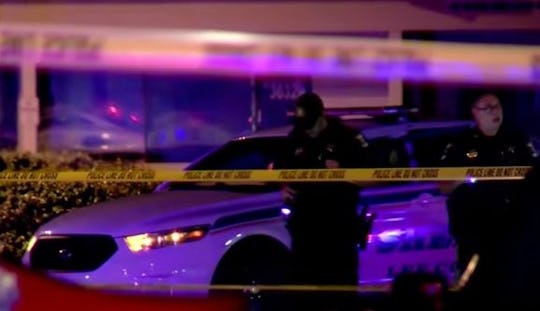 ABC News/YouTube
Reactions To The Fort Myers Club Shooting Are Emotional, Angry, & Misguided
Early Monday morning there was a shooting at a teen event in Fort Myers, Florida, which left two dead and more than a dozen injured, all between the ages of 12 and 17, according to NBC News. While police are still trying to piece together what happened in the parking lot of Club Blu just after midnight in the early first minutes of Monday morning, the reactions to the Fort Meyers club shooting have been highly emotional, politically charged, and almost universally angry.
Anger seems to be something Americans can agree on these days. And given the fact that the country is in the midst of one of the most divisive presidential campaigns in American history, it's no surprise that people are often inclined to view incidents like this one through a politically-charged lens. After last week's GOP convention, which painted a dark, dystopian, and dangerous view of America, many are convinced a strong man like Donald Trump, who vows to restore "law and order," is the remedy to the widespread violence on American streets. Others are calling on reforms to the country's gun laws to keep communities safe. And while most people are just trying to mourn victims of Sunday night's tragic shooting, the reaction from everyday Americans sheds light on the collective mood of the country and shows just how raw nerves are becoming in the wake of attacks and mass shootings around the world.
Some wondered if there's any safe places left for their kids:
Some believe that gun violence prevention measures are not sufficient.
Some are just mad about girls attending a party in swimwear.
And some conspiracy theorists seem to suggest Clinton and the DNC might be behind the shooting.
Others just blame the National Rifle Association.
Many people are tired of mass shootings.
Some are calling out the "slacktivists," who seem to do nothing but voice outrage on the internet.
Is Donald Trump the answer for less violence? Some think so.
Is this the beginning of the end?
Some are mad there isn't more media attention being given to the Fort Myers shooting.
Some are ready to blame Muslims before the facts are in.
Regardless of where they stand on the issues, it seems like people are genuinely freaked out about the regularity with which mass shootings and other incidents of mass violence are interrupting daily American life.
Just a few weeks ago, the Pulse nightclub in Orlando, Florida, became the largest mass shooting in American history, just 150 miles away from the Club Blu in Fort Myers. But according to USA Today, Fort Myers interim police chief Dennis Eads said they have not found a link between the Club Blu shooting and terrorism.