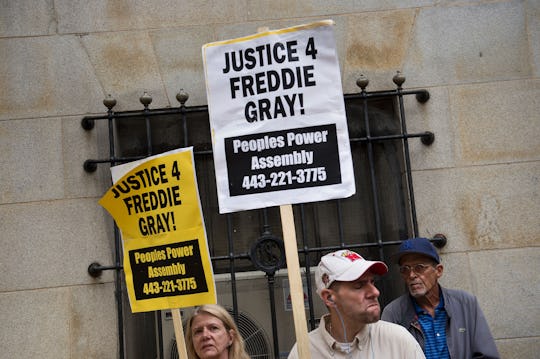 BRENDAN SMIALOWSKI/AFP/Getty Images
Reactions To The Freddie Gray Verdict Every Parent Needs To See
On Thursday morning, one of the men on trial for the death of Freddie Gray was acquitted of all charges. The police officer, Caesar Goodson Jr., was indicted when Gray died in his custody after being arrested. Gray was being transported when, reportedly, he suffered severe spinal and head injuries, according to the Baltimore Sun. The six officers involved were charged with a range of counts, including second-degree murder, manslaughter, second-degree assault, misconduct in office, and reckless endangerment. Gray's death has been a refrain and touchstone for equal rights and police brutality protesters, so the ruling of innocence for Goodson will continue to be extremely controversial. Here are some reactions to the Freddie Gray verdict every parent needs to see.
Many have taken to social media to show their frustration and disgust with the acquittal.
Others spoke up in agreement with the ruling.
Others still simply posted a message of support for Freddie Gray and his family.
But some of the most emotionally charged messages have been those that express renewed concern for themselves and their children. This acquittal sets yet another precedent for police officers to exercise undue force on minorities with little or no consequences. Given Gray's untimely death, it's easy for parents to empathize with his mourning family. The responses have been heartbreaking.
Since his death, Gray's own family had been under scrutiny by the media. Gray was often cited as the son of a "heroin addict," an epithet many protested as irrelevant and insulting.
According to The Baltimore Sun, Goodson had been an officer for 16 years and prosecutors attempted to argue that, by breaking with law enforcement protocol, he was directly responsible for Gray's injuries in the back of the police vehicle. Just after his arrest, Gray was handcuffed, but not seat-belted, while the vehicle maneuvered through the streets. Goodson elected to bypass a jury trial and instead get a ruling directly from Judge Williams, a former city prosecutor and investigator for the Justice Department. Williams acquitted Goodson on the grounds that there was not sufficient evidence to say he played a punishable role in Gray's death.
The other six officers are at various stages of their indictment. The Baltimore Sun reported that Officer William Porter's trial was ruled a mistrial in December. Officer Edward Nero was acquitted, like Goodson, in a bench trial. Lt. Brian Rice's trial is set to begin July 7. The three remaining officers will be tried through October. They have all pleaded not guilty.