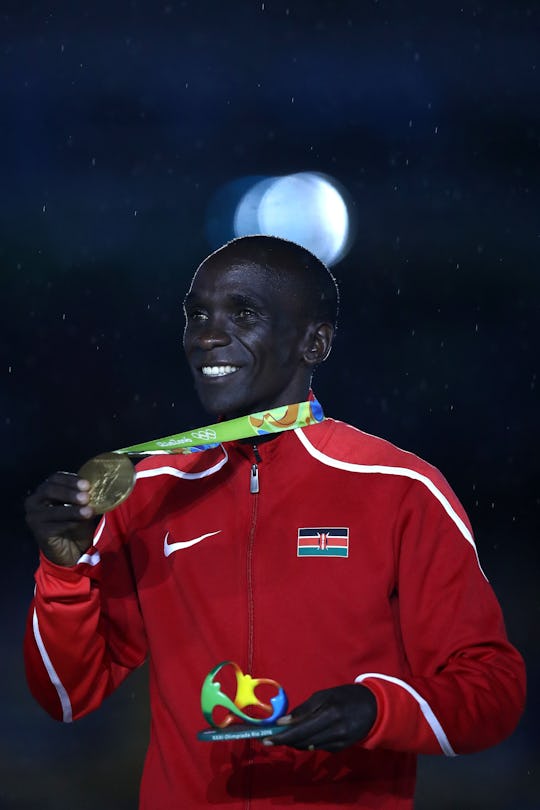 Ezra Shaw/Getty Images
Reactions To The Marathon Medal Ceremony During The Closing Ceremony Were Powerful
Unlike the rest of the sporting events at the Summer Olympics, marathon runners have their medal ceremony at the closing ceremony, and this one was very emotional. Kenyan Eliud Kipchoge took the gold with a breathtaking time of 2:08 for the 26 mile run. (That sentence was exhausting just to type.) Reactions to the marathon medal ceremony show that people agree — this one was probably the best one of them all.
Perhaps for obvious reasons, the marathon is not the most watched Olympic sport we've got. It's long, not terribly exciting, occasionally gross, oh, and it's long. I don't actually know anyone who's ever watched the Olympic marathon, and that is including marathon runners themselves. But marathoning is an endurance sport, and the athletes who compete in this event have unbelievable stamina.
Simply to run 26 miles is an achievement. But to run 26 miles in just around two hours — that averages under five minutes per mile for those of you wondering — is truly incredible, and pretty much super human. This sport which doesn't get a lot of attention outside the Olympics, or even in it, is a true test of human ability and deserves this very special awards ceremony. And Twitter agrees.
For some it was a chance to congratulate gold medal winner, Kenyan Kipochoge. Though he has long been considered one of the best runners in the world, this was his first Olympic gold medal:
Having the marathon medal ceremony at the closing ceremony is also a nice way to remind people about the event at all, as many happened to catch it only because they were already watching the closing ceremony. (Fine, that was me.)
For many, this marathon medal ceremony was an moving moment. The sheer amount of emotions on Kipochge's face was enough to make even the most stoic of humans get a little misty-eyed. I certainly don't pretend to be the most stoic of humans, and watching Kipochge accept his gold medal while the Kenyan national anthem played was quite moving.
We unfortunately didn't get to see American, Galen Rupp receive his bronze medal, after clocking in at an astonishing two hours and 10 minutes, but it was still a touching point in the celebrations, and likely something no one will forget any time soon.