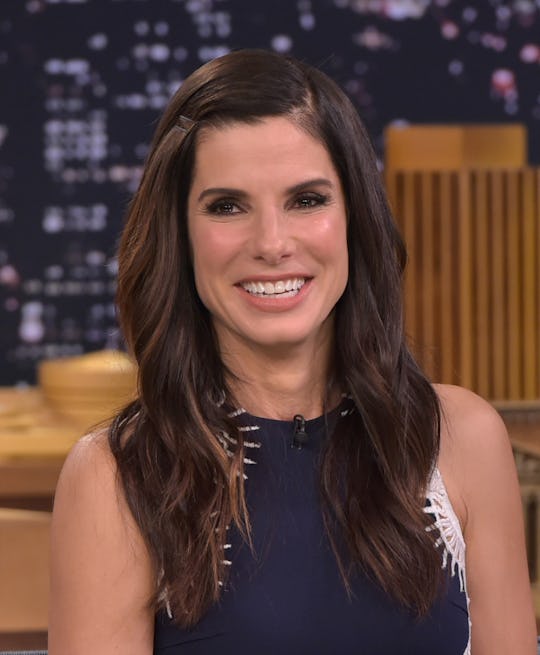 Theo Wargo/NBC/Getty Images Entertainment/Getty Images
Reactions To The 'Oceans Eight' Movie Prove Exactly Why We Need More Female-Led Films
Warner Bros confirmed today that its female-driven spinoff of Ocean's Eleven will begin production in October. This wasn't the only surprise Warner Bros had up its sleeve, though. The production company announced that the spinoff will be titled Ocean's Eight and revealed who seven of those eight badass main characters are going to be — and the one thing they have in common? They're all women. Of course, like the female driven Ghostbusters reboot before it, Oceans Eight is already facing its unfair share of backlash. The negative reactions to Oceans Eight only serve to prove exactly why the world needs more female-led films.
Sandra Bullock has long been confirmed as the "George Clooney" of this new franchise, however, now we know that she will be joined by some of the coolest women in Hollywood. Academy Award winners Cate Blanchett and Anne Hathaway will be heisting alongside Bullock, as well as Rihanna, Helena Bonham Carter, Mindy Kaling, and comedian Awkwafina. There's still one more principal cast member to be announced, but it's already clear that this girl gang is the new squad goals.
Fans of the George Clooney and Brad Pitt led heist-dramedy Oceans Eleven had a largely negative reaction to the announcement that the film was being redone with women. If it feels like we've been through this before, it's because we have. There's apparently something so ridiculous about rebooting a movie with female stars that makes the internet implode every time a new one is announced. And let's be clear: female driven moves are not happening nearly often enough.
Regardless, many fans still took to Twitter to express how betrayed they felt about Sandra Bullock daring to step into George Clooney's shoes (warning: this may make your blood boil):
It's aggravating to read supposed movie purists talk about how unoriginal Hollywood is for rebooting one of their favorite movies when, in fact, the 2001 Ocean's Eleven was a reboot itself. Ocean's Eight also won't even be a remake of the Clooney vehicle. Bullock will be playing Danny Ocean's sister and the film will be a sequel/spin off to the 2001 version. There are plenty of male driven sequels and spin offs in the world, so complaining about one starring women is simply hypocritical.
While the backlash is frustrating, it highlights that there is still a long way to go for women in Hollywood. Considering that women make up the majority of movie audiences, it seems natural that there should be more movies made for women, starring women, and by women. If the Ghostbusters reboot showed us anything, it's that representation in movies really does matter. Sure, it would be great for big time studio executives to come up with brand new ideas for blockbuster movies that strongly feature women in leading roles. I'm not going to disagree with that, but any big movie featuring an ensemble cast of strong, talented women is definitely a step in the right direction.
The backlash against Ocean's Eight, and Ghostbusters before it, shows that the world needs to make more movies starring women. There's a reaction because female led movies aren't the norm yet, and that needs to change.
Sometimes it can be hard to look past the negativity and casual misogyny that is so deeply embedded in internet culture. If you do, though, you might find something worth like seeing. In this case, people who know that Ocean's Eight has a phenomenal cast and a ton of potential. I can't wait to see what Sandra Bullock & Co. have in store.