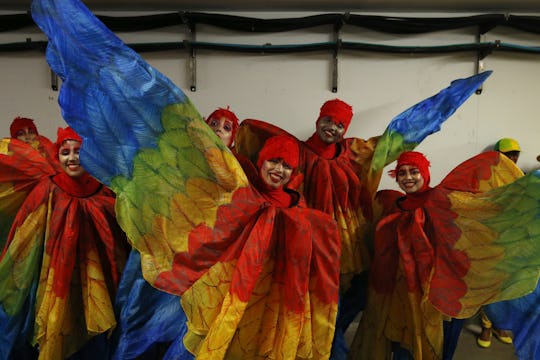 ODD ANDERSEN/AFP/Getty
Reactions To The Parrot Dance During The Olympic Closing Ceremony Show People Are Confused
Olympic closing ceremony performances are almost always over the top, and this year's performance from Brazil was no different. The festivities kicked off with a troupe of people dressed as parrots, all of whom arranged themselves as famous monuments in Rio. Twitter reactions to Brazil's parrot dancers at the closing ceremony immediately proved that people were, well, a bit confused. At an event known to be pretty flashy, hosted by a country not exactly famous for being understated, Brazil did not disappoint with their opening number.
The parrot costumes were as bright and colorful as anything that could be seen at Carnivale, and that's not even including the light show that animated the parrots as they ran around forming famous cable cars, bridges, and most notably, "Christ the Redeemer," which was flanked by bright, swirling lights. They were lead by a group of colorfully clad singers and dancers on stage, and the whole thing was quite a sight to behold. Honestly, I can't say that any of the landmarks depicted by the 200 or so parrots was immediately recognizable to me (except the Christ the Redeemer statue formation), but at least I know that I'm not alone (judging by Twitter at least):
Parrots hold some symbolic significance in Brazil, so I suppose it's not totally bizarre that they would be invoked in the Rio Olympics Closing Ceremony, but I didn't exactly predict 200 humans in feathers to be doing a formation dance. Though perhaps I should have — as should the many other audience members in awe of (and slightly befuddled by) the colorful spectacle.
Rio's closing ceremony did not have quite the elaborate set up that, say, London's Olympic closing ceremony gave us (remember that giant musical Ferris Wheel?), but it more than compensated for its lack of enormous set pieces with energy, spirit and extremely creative costuming. Aside from the bird-people dancing in formation, Brazil also gave us women honoring black culture in Brazil, as well as some slightly terrifying dancers dressed as clay dolls, complete with staring fake eyes. But it's the bizarre and the unsettling that so many really enjoyed about the closing ceremony, and, in turn, what made it so spectacular.