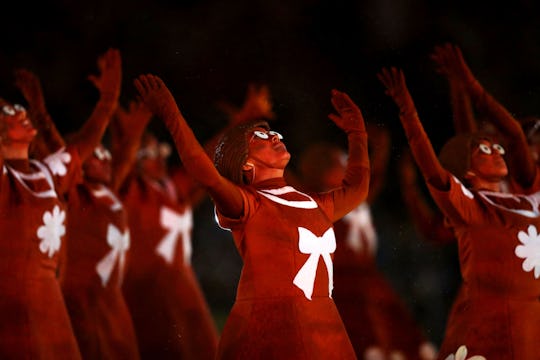 Ezra Shaw/Getty Images Sport/Getty Images
Reactions To The Red Costume Dance At The Closing Ceremony Show Love For Brazil's Culture
The closing ceremony of the Rio Olympic Games included many references to Brazilian history. One nod to the country's culture came when dancers took the stage dressed as clay dolls. The reactions to the red costume dance at the closing ceremony show how much international audiences love the incorporation of Brazil's traditions.
The closing ceremony of the 2016 Olympic Games brought the spirit of Brazil right into Maracanã Stadium. The stage swirled with dancers wearing beautiful, colorful costumes. One group of dancers wore red clothing with white details, prompting a number of comments online referencing the unique costuming. The NBC commentators mentioned that the dancers were dressed as clay dolls common in the northeastern region of Brazil. At least some of the dancers were members of Grupo Corpo, according to The Telegraph. The choreographer for the clay doll dancers reportedly hoped to reference clay's history as an early human tool and a source of creation. The troupe performed to Luiz Gonzaga's "Asa Branca," according to The New York Times. Gonzaga is known as the "King of Baião," which is a kind of rhythm that originated in Bahia, Our Creative City reported. Through his music, Gonzaga cemented baion as a style of music and brought it to its widest audience. The number at the Closing Ceremony turned into a celebration of northeastern Brazil's music and culture.
Fans of dance in the U.S. have had opportunities to see Grupo Corpo perform in the States over the years. They made their Chicago debut in 2015; according to the Chicago Tribune, dancer Paolo Pederneiras founded the troupe with family members in 1975. Grupo Corpo has toured four continents with their mix of ballet and contemporary choreography infused with Brazilian styles of dance. They try to draw on both the tradition and the innovation of the country's artists, working to create a stunning reflection of Brazil's diverse cultural influences. Reporting for The New York Times, Gia Kourlas described Grupo Corpo's style as "energetic" and their aesthetic as "vibrant." On Sunday, they earned fans around the world.
Watching clay dolls come to joyful life onstage at the closing ceremony was beautiful. Though many viewers following the closing ceremony at home commented on the amazing ways Rio integrated Brazil's culture into the show, some commented on how cool it was that the ceremony's choreographers drew on such a specific element of the country's history to create a truly memorable dance.
Though not everyone can jet off to Brazil to experience the country in person, the Olympic opening and closing ceremonies offered viewers around the world the opportunity to experience a bit of the culture from home.