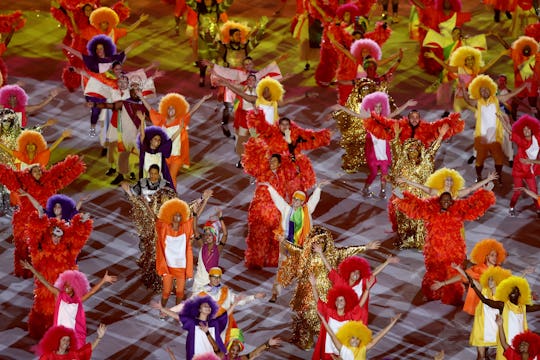 Clive Mason/Getty Images Sport/Getty Images
Reactions To The Rio Opening Ceremony Evolution Segment Are For The Most Part Positive
There were just a couple pairs of eyes on Rio de Janeiro on Friday night as the 2016 Summer Olympics kicked off with the opening ceremony. There's no doubt that this is a moment during the entire two weeks the Olympics go on that everyone is watching. So, no pressure, Rio. During the Rio opening ceremony, an evolution segment particularly stole the attention of a few watchers — OK, maybe more than a few. After all, entire world is watching this.
Of course, the segment didn't come without it's criticism. People are either going to love a segment about evolution or hate a segment about evolution. What is important to notice here is that the segment got a reaction out of people watching, and it just proves that this is a very global event that is getting eyes from many walks of life and many cultures on it. Not everyone around the world agrees with the idea of evolution, but it's pretty awesome that Brazil took on the topic. It's definitely a positive note to start the show on.
So, what are people saying about the opening segment about evolution? Here's a roundup of tweets from every point of view.
No matter the reaction that the segment gets, it is worth applauding Brazilians for taking on any topic that they are passionate about. This is their home, and to see that they are using this to represent something that is clearly important to them is exactly how it should be.
The segment will no doubt continue to get a response out of watchers, but that's OK. The Olympics are about world cultures coming together — sometimes those don't match up or align exactly. But, that doesn't mean each voice shouldn't be heard. You have to give props to Rio for not only taking on evolution, but just for putting on such a spectacular opening show.