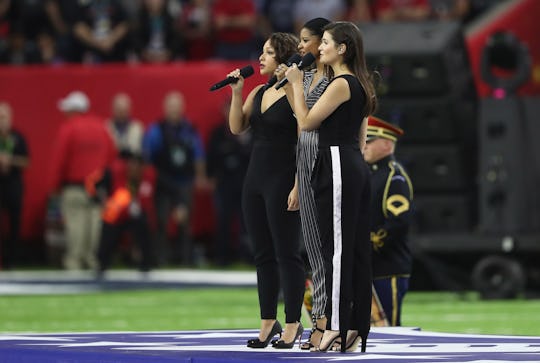 Elsa/Getty Images Sport/Getty Images
The Schuyler Sisters Just Won Over Some New Fans
Today's the day, folks. Yep — today, America is once again blessed with a free performance of absolute beauty, grace, athleticism, and harmony. Today, or tonight, rather, Lady Gaga will be performing at a sports game. Okay, it's the Super Bowl. But still, Lady Gaga is what has me excited. Well, Gaga, and of course, the Schuyler Sisters. And with their performance of "America the Beautiful" before kickoff, the Schuyler sisters' feminist "sisterhood" moment has everyone talking, even if they weren't exactly sure who those three incredible performers were.
Yes, this year, America has been graced with not one, but two awesome girl-power performances at a predominately male program. And while Lady Gaga's performance is still yet to come, the Schuyler sisters have already blessed us all with a gorgeous rendition of "America the Beautiful," and even put a feminist twist on the 200-year old poem-turned-song.
While in the midst of the mesmerizing harmonies, the trio, comprised of Renee Elise Goldberry, Phillipa Soo, and Jasmne Cephas Jones, altered the centuries-old lyrics to have a somewhat poignant twist. During the song, when the lyrics usually say, "And crown thy good with brotherhood, from sea to shining sea," the performers amended, for a second, those lyrics to add in "and sisterhood," before the song's ending. And, of course, the change didn't go unnoticed by anyone, and these reactions to the Schuyler Sisters' feminist sisterhood moment prove:
Of course, the ladies also caused a stir with their outfit choices. The three women all chose to wear pantsuits — not skirts, not dresses, not leotards — while they sang. And while many would like to believe that clothes and fashion aren't political, Hillary Clinton's presidential campaign made very clear that most of America is still very sexist, and has certain ideas of how women "should" dress.
Even more fitting, the Schuyler Sister's "and sisterhood" moment, along with their coordinating pantsuits, seems to point to the recent reports that Donald Trump allegedly wants his female staffers to dress a certain way. Really, the Schuyler Sisters' performance was the feminist spark that America needed right now.
Of course, the women themselves haven't officially spoken about their performance yet, and if it was a subtle dig at President Donald Trump, they're keeping quiet (for now). Honestly, no matter what else happens tonight, or who wins, at least we had that moment, together. When brotherhood and sisterhood reigned supreme, despite everything else going on in the world.