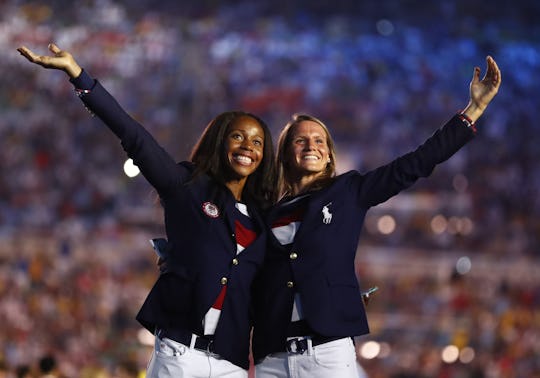 ODD ANDERSEN/AFP/Getty Images
Reactions To The US Olympics Team's Outfits At The Opening Ceremony Are Mixed
On August 5, billions of individuals tuned in from all over the world to watch the 2016 Olympic opening ceremony. Although the intention of the two-week, international, multi-sport event is to recognize and honor incredible feats of strength, agility, grace, and athleticism, the opening ceremony is designed to be a celebration: a celebration of all nations, all people, and of diversity. However, the one thing most American's appear to be talking about — well, the one most Twitter users appear to be talking about — is what Team USA wore, and surprisingly the initial reactions to the U.S. Olympic team's outfits appeared to be positive.
When the uniforms were unveiled last month, by designer Ralph Lauren and the United States Olympic Committee (USOC), many were shocked and even offended by the outfit's design because the striped shirt was eerily reminiscent of the Russian flag. (The colors of the shirt and the stripe order really do make it look like the Russian flag.) Of course, there were other complaints: some Twitter users voiced their dislike of the large Polo logo while other complained about the "gaudy" light-up USA (the back of the flag bearer's blazer is tricked out with "electroluminescent panels.") But the main point of contention appears to be the striped tee.
According to CNN, the USOC approved of Team USA's opening ceremony outfits, and Lauren's design, as they referred to the uniforms on their website as "fresh and sporty, with classic elements...[and] an all-American palette of red, white and blue." And it seems that, after the opening ceremony, many Twitter users changed their tune and actually agreed:
But make no mistake, not everyone was happy:
This is the fifth consecutive Olympics that Lauren has designed the uniforms for Team USA since her first created their uniforms for the Beijing Olympics in 2008, and his mark will be seen again during the closing ceremony when Team USA is slated to enter the arena wearing white chino shorts, boat shoes, a striped belt, and red, white, or blue button-down shirts (athletes choice!) with the Polo pony logo on the front and USA on the back. And yes, much like the opening ceremony they'll be wearing these shirts over striped tees. The good news is that these nautical-inspired tops will have blue and white stripes only, so this writer is not expecting any additional backlash or controversy — but never say never, right?
Either way, let the games begin and go #TeamUSA!