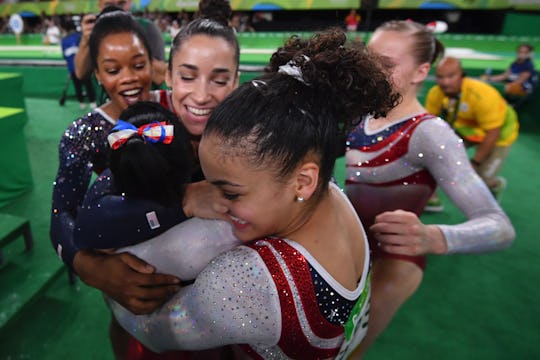 BEN STANSALL/AFP/Getty Images
Reactions To U.S. Women's Gymnastics Winning Gold Are Worthy Of Their Own Medals
Meeting and then exceeding everyone's highest expectations, the U.S. women's team won the gold medal for the all-around team competition on Tuesday. Superstar Simone Biles paved the way for the team's second consecutive Olympic win along with teammates Aly Raisman, Gabby Douglas, Laurie Hernandez, and Madison Kocian. Twitter reactions to U.S. women's gymnastics winning gold, though, are worthy of their own medals.
This is the first time that a U.S. gymnastics team has won back-to-back gold medals. The team's final score of 184.897 was more than eight points higher than the Russian silver medalists—a truly giant margin. Regarded as virtually flawless, the performances that contributed to an incredibly high score indicate that big things are to come in the finals of the individual all-arounds, which will be held this Thursday, August 11th. Biles and team captain Raisman, who earned first and second in the qualifiers, will represent the U.S.. Teammate Douglas got third place, but Olympic rules prohibit teams from having more than two gymnasts in the individual finals. So even though Douglas' score was nearly two points greater than the fourth place finisher, Brazilian Rebeca Andrade, it seems we've seen the last of Douglas for now.
But back to the celebrating!
Dubbed the "Final Five" (because every U.S. team needs a catchy nickname), the women were led to victory by national team coordinator Martha Karolyi. Karolyi has coached the U.S. team since 2001 and she's retiring at what appears to be a most untouchable peak. The team picked "The Final Five" as a nickname because they're Karolyi's final Olympic team; it's meant to honor her. Additionally, at the next Olympic games, gymnastics teams will consist of four members, not five. Truly, these athletes mark the end of an era, because in 2020 things might look a whole lot different.
Biles received the best vault, beam, and floor scores of the day—a distinction that she hopes to take to the individual events later on in the hopes of earning more medals. She could win a total of five while in Rio which would add to her already exhaustive collection of World Championship medals (she's got 10).
Currently, the U.S. is tied with China for first with five overall gold medals earned. In considering all medal levels, U.S. is well ahead with 20 against China's 13. But we're just at the beginning of the competition at this point. The weeks to come are sure to offer more surprises and upsets, giving new household names to learn up on while cheering on our old favorites.