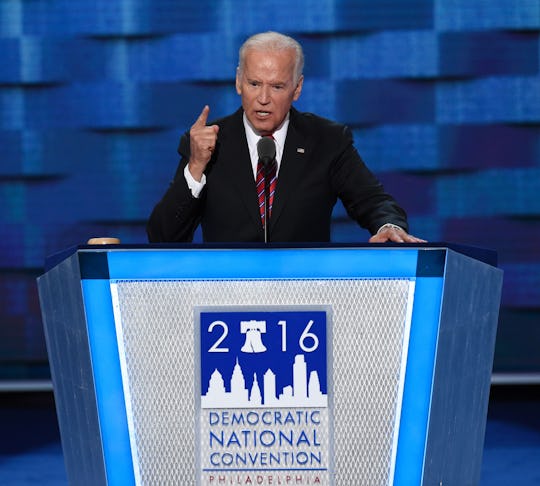 SAUL LOEB/AFP/Getty Images
Reactions To Vice President Biden's DNC Speech Prove Just How Much People Love Him
Vice President Biden had the entire crowd in the Wells Fargo Center chanting his name on Wednesday night at the Democratic National Convention in Philadelphia. His strong rhetoric, articulate argument, and comments towards Donald Trump had the crowd going wild. The internet went wild too, with various social media reactions to Vice President Biden's DNC speech proving just how much people love him.
Biden had a lot to say during his speech, after a wonderful introduction from his wife and second lady Dr. Jill Biden. Biden touched on major subjects not only in his life but in the Obama's as well. He talked about just what he was able to accomplish during his time in the White House, making audience members already nostalgic for a time when the Obama and Biden administration. But then Biden began to talk about Hillary Clinton and attack Donald Trump's arguments — that really made the crowd go wild.
Joe Biden's charm, strength, and ability to give one amazing speech wowed audience members at home. While people liked Biden's speech, they loved he charisma and appearance more. Just take a look at these incredibly funny reactions from Twitter and see for yourself:
Biden gave a speech that people will be talking about for a very long time. And hey — maybe if this election ends in chaos maybe Biden will consider running in 2020. Judging from the reactions of Twitter users, it seems like Biden already has a few supporters under his belt.