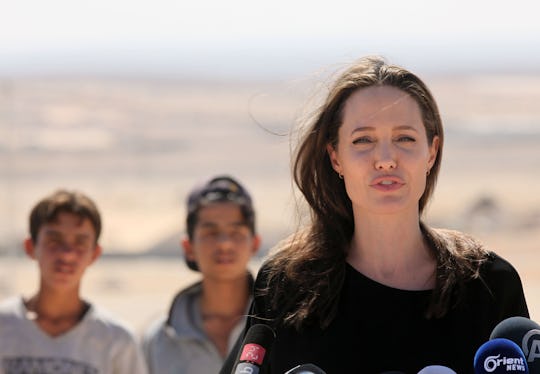 Jordan Pix/Getty Images News/Getty Images
Angelina Jolie's Refugee Letter Is A Must-Read
If there's a perfect argument against President Donald Trump's controversial refugee ban, it's Angelina Jolie's powerful letter, published by The New York Times in its op-ed section on Thursday. The 41-year-old actress' memo was especially moving as she has been a longtime advocate for refugees and, as she noted in the letter, a mother to six children "who were all born in foreign lands." In the fierce op-ed, Jolie slammed the president's new immigration policies directed at seven countries with predominantly Muslim citizens, writing that the nation's response to the devastating refugee crisis should be "based on facts, not fear."
"Acting out of fear is not our way. Targeting the weakest does not show strength," Jolie wrote in the Times op-ed. "Refugees are men, women and children caught in the fury of war, or the cross hairs of persecution. Far from being terrorists, they are often the victims of terrorism themselves."
Jolie has been the special envoy of the United Nations High Commissioner for Refugees since April 2012 and was previously a Goodwill Ambassador for the organization from 2001-2012. Throughout her humanitarian and acting career, Jolie has been regarded as an influential advocate on refugee matters by representing the UN Refugee Agency to other diplomats, governments, and officials around the world.
Considering all of this, her opinions on this very important issue are pretty insightful.
"It is simply not true that our borders are overrun or that refugees are admitted to the United States without close scrutiny," the letter continued. "And in fact only a minuscule fraction — less than 1 percent — of all refugees in the world are ever resettled in the United States or any other country. There are more than 65 million refugees and displaced people worldwide."
Trump's order — which went into effect last Friday, sending shockwaves of chaos and confusion worldwide — suspends all refugee resettlement into the United States for four months and refugee resettlement for Syrians indefinitely. The order also temporarily bans any citizen from Iraq, Iran, Libya, Somalia, Sudan, Syria, and Yemen entry in the United States for three months, even if they hold a valid immigrant or non-immigrant visa or dual citizenship with other nations.
Having worked with the UN since 2001, Jolie has carried out over 50 missions for them, including in Iraq and Syria, and wrote in the letter that she's proud of the United States' history of fighting for human rights and helping refugees in need.
"I'm proud of our country's history of giving shelter to the most vulnerable people," Jolie wrote. "Americans have shed blood to defend the idea that human rights transcend culture, geography, ethnicity and religion."
Jolie argued that Trump's order was not the solution to the crisis and could have devastating repercussions. "If we send a message that it is acceptable to close the door to refugees, or to discriminate among them on the basis of religion, we are playing with fire," she wrote. "We are lighting a fuse that will burn across continents, inviting the very instability we seek to protect ourselves against."
And as a mother to six children — three adopted from Cambodia, Ethiopia, and Vietnam — the refugee crisis is clearly a cause that is very close to her heart. She wrote:
I very much want our country to be safe for them, and all our nation's children. But I also want to know that refugee children who qualify for asylum will always have a chance to plead their case to a compassionate America. And that we can manage our security without writing off citizens of entire countries — even babies — as unsafe to visit our country by virtue of geography or religion.
As a mother, humanitarian, and a prominent advocate, Jolie's letter will surely reach a wide audience. Although many immigration advocates and political figures are already working tirelessly to overturn Trump's order, Jolie's words may catch the attention of some who are in an influential position to make change happen.
Read the full letter here.