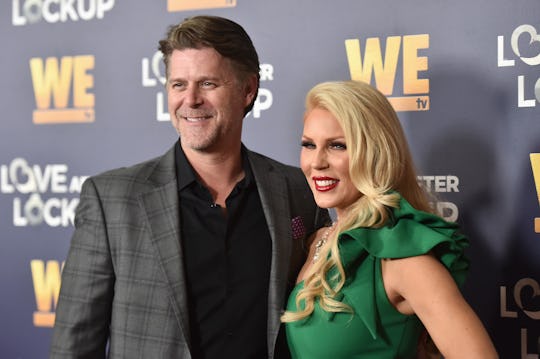 Alberto E. Rodriguez/Getty Images Entertainment/Getty Images
'RHOC' Alum Gretchen Rossi Is Expecting Her First Child With Slade Smiley
Congratulations are in order for another Real Housewives alum. Former Real Housewives of Orange County star Gretchen Rossi is expecting her first child with partner Slade Smiley, the couple announced in a segment on The Doctors on Monday, according to People. This is the long-time couple's first child, but Smiley has two sons, Page Six reported.
Rossi said on the show that, so far, the pregnancy has been a bit more difficult than she was expecting.
"I think they lie to you when they tell you you're gonna get morning sickness," Rossi said. "They lie to you — it's all day sickness! But the good news is that my doctor told me that's actually a good sign."
Rossi and Smiley first started IVF four years ago, but devastatingly lost 14 embryos following the first round, which led to her wanting to take a break from the process for awhile, according to Bravo's The Daily Dish. Rossi said on The Doctors that she's due in July of 2019.
"All of this has been such an overwhelming journey, and so when you get to those little milestones, you know you're hearing the heartbeat," Smiley added on the show, per The Daily Dish. "It's so exciting, but it's also relief."
The couple has been together for a long time — Rossi and Smiley met over 20 years ago, according to People, but didn't start dating until nearly 10 years later and have now been together for about 10 years. Though they got engaged in 2013 and, at the time, planned to get married, in an interview on SiriusXM's Jeff Lewis Live, Rossi said that they're no longer in a hurry to do so, per People.
"We're really content. We're really happy," Rossi told Us Weekly earlier this year. "I think that one day [we'll] definitely get married, but right now we just really are focused on starting a family so we just don't really want to put the money and the resources into a wedding because the truth is Slade and I do everything really big."
Rossi joined the cast of Real Housewives of Orange County in Season 4, according to E! Online, and left the series in 2013, after the end of the show's eighth season, but not before fans got to see her propose to Smiley in a very dramatic way (it involved a helicopter and a song).
On the way to trying to conceive their baby, both Rossi and Smiley underwent a number of medical procedures and surgeries, which Rossi admitted took a serious toll. (And understandably so.)
"It's been a long hard journey," Rossi wrote in a 2016 Instagram post. "Dealing with the challenges of IVF, our concerns about genetics, and cancer in the family as well as Slade's decision to have a vasectomy over 15 years ago. We are so grateful to all those who have supported us and wished us well during this process."
After the couple officially shared their happy news with fans, Rossi again took to Instagram to confirm reports and share the news further. In her post, she also shared love and encouragement with those who themselves are trying to conceive.
Don't give up! Sending love to all those going through the struggle to conceive, you are not alone, you are heard, and you are loved ❤️
It's safe to say that fans are over the moon for the couple. With how open Rossi and Smiley have been about their experiences thus far, chances are good that they'll continue to share their pregnancy with fans as well. And fans can't wait for it.
After a very frustrating first birth experience, this Deaf mother wanted a change. Will the help of two Deaf doulas give the quality communication and birth experience this mom wants and deserves? Watch Episode Four of Romper's Doula Diaries, Season Two, below, and visit Bustle Digital Group's YouTube page for more episodes.