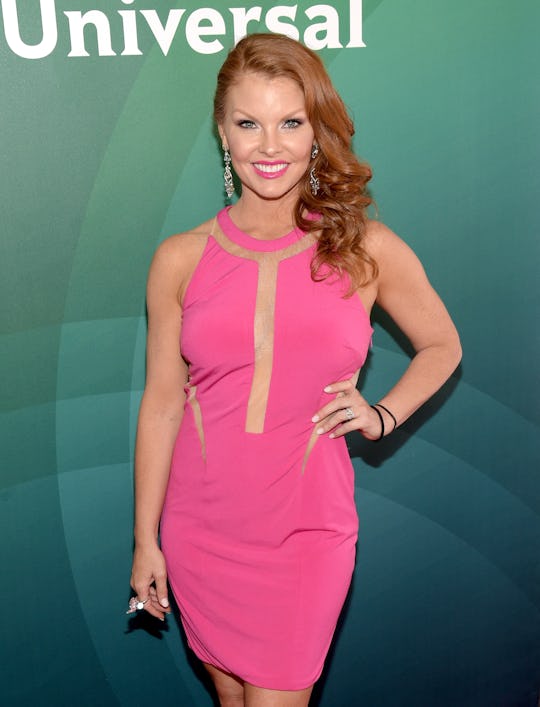 Jason Kempin/Getty Images Entertainment/Getty Images
'RHOD's Brandi Redmond Has Adopted A Baby Boy After Infertility Struggles, & It's So Sweet
Real Housewives of Dallas star Brandi Redmond may seem to have a beyond-enviable life, but it definitely hasn't been without its ups and downs. Though they already have two daughters together, Brooklyn and Brinkley, Brandi and her husband, Bryan Redmond, struggled for years to get pregnant after deciding they wanted a third child. But on Wednesday, People announced that Real Housewives of Dallas' Brandi Redmond has adopted a baby boy, and from the sounds of it, it was absolutely meant to be.
As anyone who has struggled with infertility knows, there is definitely nothing easy about not being able to get pregnant when you desperately want to, and Brandi told People that, while she and Bryan ultimately agreed to stop trying after years of failed attempts — including a miscarriage — she always felt like her family "wasn't complete." But just as the couple was resigning themselves to forever being a family of four, they found out about a baby boy born premature who was in need of adoptive parents. After they flew out to meet him in the NICU in a Texas hospital, Brandi said they "immediately fell in love," and decided to adopt the baby, whom they named Bruin. And now? Brandi told the magazine that her family was "one hundred and ten percent complete."
RHOD fans hoping to watch more of the Redmonds' journey as parents-of-three are in luck: Brandi told People that reality TV cameras "followed the whole thing from start to finish," and there's no doubt that viewers will find it pretty moving. But as much as Brandi's followers seem super happy for the couple, many were also thrilled that they were choosing to share their beautiful story with the world: on Instagram, a number of users chimed in to share that they, too, were adopted, with one commenter writing, "LOVE this and that you are sharing your journey of adoption!" and another chiming in to say that "this baby won the lottery having you as parents."
Even though Bruin doesn't have a genetic connection to his new family, Brandi says she was pleasantly surprised to see that he actually seems to share the family's ginger hair! She told People that meant he'd "always look like he came from [her]," but then added, "which he did — he came from my heart."
As hard as it is to struggle to conceive in general, Brandi also seemed to struggle a lot with feeling responsible for her infertility, as she'd actually undergone a "mommy makeover" after the birth of her girls, which included a tummy tuck. In a September 2017 episode of RHOD, she visited a fertility doctor who told her that "tons of people get pregnant after mommy makeovers without any problems," according to OK!, and that she shouldn't beat herself up over it. But even still, Brandi said at the time that she blamed herself for her miscarriage, and that, even if she were to get pregnant again, the risk of having another miscarriage or a complicated pregnancy "[weighed] heavily on [her]."
Even though they may not have necessarily been expecting to grow their family through adoption — Brandi told People their decision to adopt "happened pretty much overnight" — it seems pretty clear that they are thrilled to have Bruin in their lives. She said her son is "so, so happy," and that "he smiles all the time and just giggles and laughs." But given her son's difficult start in life as a premature baby in a hospital without any parents to care for him, it seems like his forever family is doing the best they can to make up for lost time. Brandi told People,
The only time he cries is when he's left alone. I'm sure that's a normal baby thing, but because of how we got him, I'm especially like, 'No, you will never be left alone.'
Brandi and Bryan may have had to endure years of heartbreak over their inability to have another child on their own, but it definitely sounds like it worked out beautifully in the end. And while adoption might not be the right option for everyone, their story is a reminder that there are many different, amazing, ways to build a family.