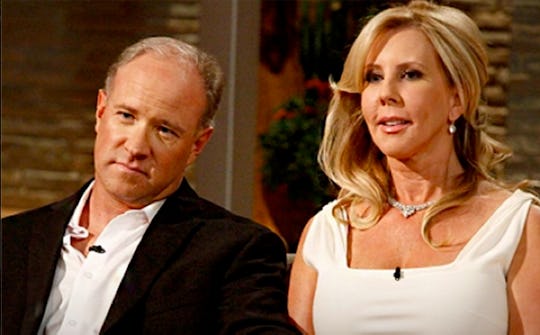 'Real Housewives of Orange County's Brooks Ayers Admits To "Fabricating Documents" To Prove Cancer
Well, Meghan King Edmonds must be feeling pretty vindicated Wednesday. Because Real Housewives of Orange County's Vicki Gunvalson's ex Brooks Ayers has admitted to fabricating cancer documents for the sake of reality television. As he says in an exclusive statement to E!:
Words cannot express the deep regret that I have in fabricating documents to "prove" to the world that I, in fact, have cancer. What I did was wrong and inexcusable. I acted alone, without Vicki [Gunvalson]'s knowledge, to produce documents for a reality TV show in hopes of putting doubts about my cancer to rest. I never intended to disclose my actual medical records or details about my private and personal medical history, thus the rationalization of presenting documents that weren't true simply for a "storyline" for the show.
This news comes on the heels of City of Hope medical center telling E! that it had never treated Ayers, despite the reality star providing documents from the facility that seemed to support his diagnosis. It also comes ahead of Andy Cohen's Nov. 12 interview with Ayers about the claims surrounding his condition. Which documents Ayers is discussing are not clear (whether they're the documents that he gave to E! or showed on the TV show), but it's a shocking admission nonetheless.
The admission from Ayers is a satisfying one not only for fans of Housewives, who never shied away from bashing the personality on social media, but also for the cast itself. Anyone who watched the last season of the series would know that Ayers' diagnosis, which he said was identified as Stage 3 non-Hodgkin lymphoma in October 2014, was at the center of the drama between the cast — not only was Edmonds vehemently denying his condition (even going as far as to investigate the matter herself), but Shannon Beador, Heather Dubrow, and Tamara Judge also all confronted Gunvalson about the matter throughout the season. And we won't have to wait long until we discover what they think about the matter — Edmonds, who lost her husband Jim Edmond's ex-wife LeAnn Edmonds Horton to cancer earlier this year, has already spoken to E! about Ayers' revelation.
I pray for him. I would want to tell him that I hope he finds the truth somewhere in his life. The truth will set you free ... It's a very sad and disgusting situation. I never believed I would be surrounded by such lies but hopefully now we can focus on the truth.
Judge's reaction? "I can't say I'm shocked."
And, for what it's worth, though Gunvalson stuck by Ayers' side during shooting of the season, once filming wrapped and the couple split up, the Real Housewives of Orange County star started singing a different tune. She said on the Real Housewives reunion episode that her "gut" told her he was lying about his illness. And she's not likely to change her mind anytime soon. As she tweeted Wednesday:
But what's next for Ayers? Though it's still unclear as to whether or not he's suffering from the disease (he's only admitted to fabricating documents, not lying about the cancer altogether), he's suddenly expressing interest in maintaining a low profile.
From this day forward, my own personal journey with this disease will remain private as I initially intended over a year ago. My sincerest apologies to my family, friends, loved ones, and those who are battling this horrid disease for any additional pain and/or stress that I have caused. As [University of Louisville basketball coach] Rick Pitino once said, "Mistakes can be good. They are fertilizer. Everything I've learned about coaching [life], I've learned from making mistakes." I made a mistake yet I have learned a huge lesson as well.
A lesson that more than likely will continue to be taught well into Season 11 of Real Housewives of Orange County.
Image: Bravo (2)