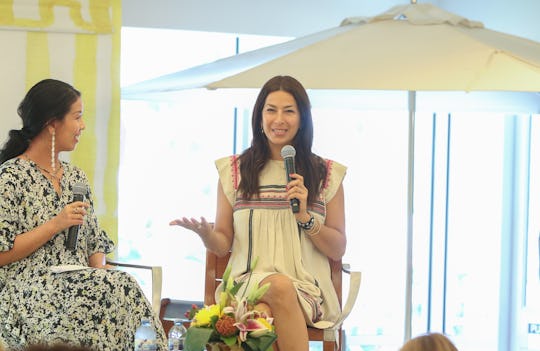 Getty Images for Beaches
Rebecca Minkoff Plans To Be Extremely Strict About This One Thing With Her Kids
You know her name, and you likely know her handbags, but did you know that Rebecca Minkoff is also a mother of three? The fashion designer has done a wonderful job of keeping her private life just that — private, though every so often you can get a glimpse of her life outside of the office on her Instagram. But being social savvy isn't something she's eager to pass on to her children, as Rebecca Minkoff plans to keep her kids off of social media for as long as she possibly can. I had the pleasure of meeting with Minkoff to talk about all things social media during Social Media On The Sand at the breathtaking Beaches resort in Turks & Caicos recently, where she shared that she has "huge concerns" about her children diving into the digital age as they grow up.
Minkoff, who has somehow mastered keeping her hair straight despite the island humidity, tells me that her oldest son, Luca Shai, is now seven years old. As he and his friends get older, more and more of what they do — and what they are interested in — is digital, as many parents understand these days. Though our conversation has been pretty light thus far, when it comes to her children Minkoff takes on a much more serious demeanor. "I have huge concerns, and I plan to not let him [on social media] until he's way older," Minkoff tells me after I inquire about Luca Shai's interest in tablets and the internet as a whole. "I keep being told that I'll lose that, that I'll lose that fight, but I see what it's doing to young children, and the bullying that's occurring."
At seven years old, Luca Shai hopefully has a few more years before he's begging for an Instagram account of his own, but that doesn't mean Minkoff isn't already looking to keep him uninterested in the idea. In fact, the more she talks about it, the more clear it is that Luca Shai is going to have quite a difficult time convincing his mom otherwise. "I frankly don't care if he comes home and he's gonna be sad that he wasn't part of the Instagram group," she explains, sternly might I add. "You just see that it — it's too early to get these kids on screens like that."
Unfortunately, Minkoff has seen the negatives of social media firsthand after learning that her friends son was being bullied on Instagram. Her mom-to-mom advice to that friend? "Just take the phone away," Minkoff told her. When her friend came back with the excuse that her son needed a phone in case of emergencies, Minkoff had an even better solution: "Cool. Buy him a flip phone."
Now, when it comes to her own social media, Minkoff knows that there is a thin line between oversharing her personal life and delivering her brand. The way she explains it to me is that, in the simplest of terms, she knows most people are following the @rebeccaminkoff handle to see Rebecca Minkoff designs. However, she hasn't shied away from sharing small but meaningful personal moments in her life with her followers.
"It's not about showing my kids too much or not enough. It's about what my followers engage with, and they wanna see a peek but they don't want all the mommy moments," Minkoff explains. Not only does Minkoff have her audience figured out, but she is in no way offended by the fact they are likely more interested in her brand than her family. As she put it: "My audience wants product, and they want to see the entrepreneur, the designer, and not necessarily my kid swearing or me cleaning up dirty diapers."
In fact, throughout our trip to the Beaches resort in Turks & Caicos for Social Media On The Sand, Minkoff kept her sharing to a minimum. The designer was joined by her husband, Gavin Bellour, and their three gorgeous children, including their daughter, Bowie Lou, and their newborn son, Nico Valentine. When Minkoff wasn't busy speaking to hundreds of moms at the Social Media On The Sand conference, she joined her family at activities and events all over the resort, including the Pirate Island Waterpark, a live production of Alice In Wonderland, and a Mad Hatter after party, as seen in the photo above.
If you take one thing from my chat with Rebecca Minkoff, let it be this: being concerned about your children joining social media is okay. And, ,if all else fails, you can always take her advice and get them a flip phone.