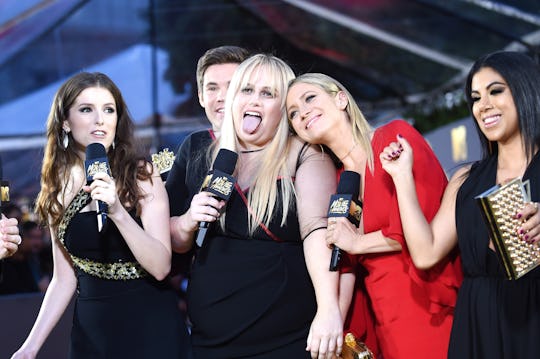 Emma McIntyre/Getty Images Entertainment/Getty Images
Rebel Wilson & Adam Devine's MTV Movie Awards Kiss Was Super Hot & Heavy
Pitch Perfect and Pitch Perfect 2 are amazing movies. The movies are super hilarious, well written, and acted by a fantastic ensemble of hilarious actors and comedians. Two of those members of the cast that are particularly funny? Rebel Wilson and Adam Devine, who have a great chemistry together. So, it was no surprise that Rebel Wilson and Adam Devine's MTV Movie Award's kiss was super hot, heavy, and — of course — hilarious.
Wilson and Devine accepted the award, playing it off very shy and coy, acting as if they weren't interested in one another or kissing one another.
"We have no sexual chemistry," Wilson told the audience.
"We had none. Zero. Zilch. I'm not even turned on," Devine said.
But then, of course, in true MTV Movie Awards fashion, the two ended up doing something big. And boy, did they go all out. Although it wasn't on the same level as Rachel McAdams and Ryan Gosling's Best Kiss acceptance back in 2005, it got pretty close to it. Wilson and Devine got pretty intimate, very quickly and it was hilarious. After feigning dislike for one another, they gave into their desires and went for it.
The two on-screen lovers went all out, making out (with plenty of tongue), and grabbing each other's faces before grabbing each other's butts. The two then proceeded to roll on the floor, where Wilson encountered a bit of a wardrobe malfunction (or so the blur sensor made it seem). Wilson also proceeded to kick her shoes off on the stage during the kiss and had to pick them up off the floor when it was over. Yeah, it was that intense.
Devine thanked the crowd for voting for them for the award, and then proceeded to grab Wilson's butt and kiss her one more time before leaving the stage. It was absolutely hilarious and was done in true Devine and Wilson — two people who are not afraid to cause a bit of trouble and have a lot of fun with whatever they are doing.
Devine and Wilson beat out nominees Amy Schumer and Bill Hader from Trainwreck, Dakota Johnson and Jamie Dornan from Fifty Shades of Grey, and Ryan Reynolds and Morena Baccarin from Deadpool to win the award. They definitely deserved to win the award. Pitch Perfect 2 was a hilarious and great movie, and I'm happy to see it finally get the credit it deserves — even if it was through the Best Kiss award.