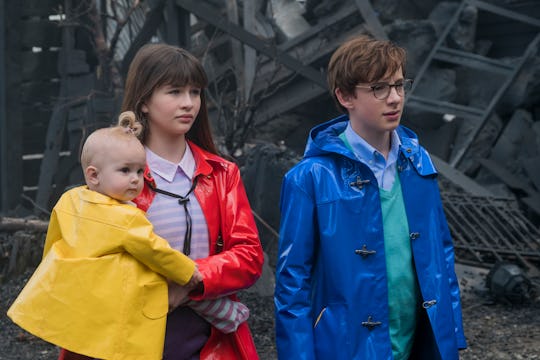 Joseph Lederer/Netflix
Everything You Need To Remember About 'A Series Of Unfortunate Events' Season 1
The first season of Netflix's adaptation of A Series of Unfortunate Events took eight episodes to bring the first four books to life, and the second season will tackle four more. But before you tune into Season 2, you may find yourself needing a recap of A Series of Unfortunate Events Season 1 to make sure you didn't forget anything important. Knowing what the characters have been through so far will prepare you for the next step in their journey.
The show began by introducing siblings Violet, Klaus, and Sunny Baudelaire, a trio of tenacious kids who find themselves in one terrible situation after another. They spent Season 1 being shuffled from home to home after a tragedy left them without caretakers, chased all the while by their nefarious legal guardian Count Olaf. Everything was narrated by Lemony Snicket, the purported author of the book series (and pseudonym of real author Daniel Handler) and someone who may have information about the Baudelaires' past.
The first season left Violet, Klaus, and Sunny on the precipice of a new adventure, with many questions left unanswered about the lives their deceased parents led before their untimely demise. Season 2 might answer some of those inquiries, but leave the audience curious about even more. Here are some of the key things you need to keep in mind before pressing play on the new season.