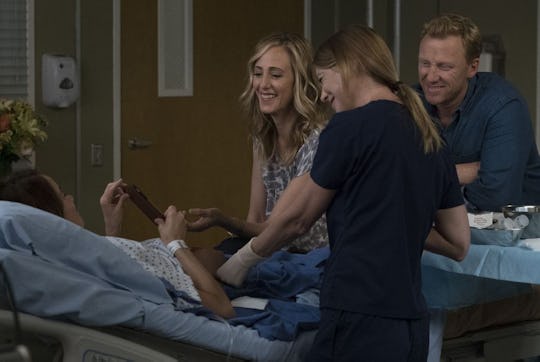 Richard Cartwright/ABC
You Need To Read This 'Grey's Anatomy' Season 13 Recap
Can you believe the fourteenth season of Grey's Anatomy is here? That's 14 years of hook-ups in on call rooms, shocking deaths, plot twists, love triangles, and so much more. The show has come a long way since the first season when Meredith, along with Cristina, Izzie, George, and Alex, were just interns. While it'd be impossible to try and summarize everything that's happened over the years, it'd probably be helpful to recap Grey's Anatomy Season 13, so you have a clear recollection of everything that went down last spring.
It's honestly hard to remember where this season even began since it did premiere almost a year ago. At the start of the season there was a lot going on. Season 12 ended with Alex beating up DeLuca after thinking he had slept with Jo; April had to have an emergency C-section, which was performed by Ben who'd just recently gotten into trouble for doing that exact thing; Amelia and Owen got married; and Meredith realized she had feelings for Riggs right when Maggie revealed she did too.
To say things were messy would be an understatement. That's why it's kind of wild to see how everything changed over the course of the season and where our favorite doctors are now, leading into Season 14. So without further adieu, here are the key things you need to remember about Season 13.
Meredith & Riggs Gave Their Relationship A Shot
Although Meredith was hesitant to date Riggs because of Maggie's feelings, she was eventually able to talk to Maggie and figure things out. Then Meredith and Riggs began to really fall for each other and it seemed she may actually fall in love with someone new after Derek.
Owen's Sister Is Alive
During the finale, it was revealed that Owen's long lost sister and Riggs' fiancée, Megan Hunt, was alive after going missing many years ago. The finale ended with Megan being flown to Grey Sloan Hospital to be treated. Meredith, knowing that if it was Derek she would've done anything to be with him, told Riggs about Megan being found and let him go.
Amelia Moved Out
Amelia soon realized she wasn't ready to have kids, but struggled to explain to Owen why. In the end, she decided to move out, but after Owen found out his sister had been found, Amelia was there to support him. So will they be able to save their marriage or are they still heading towards a divorce?
Bailey Hired & Fired Dr. Minnick
After Alex was arrested for beating up DeLuca, Catherine told Bailey she needed to hire a new education specialist, and replace Dr. Webber. Bailey hired Dr. Minnick, which caused a lot of outrage throughout the hospital. However, after Minnick failed to tell the authorities that Stephanie was missing in the finale, Bailey decided to fire her. While most were happy about the news, Arizona, who was just starting to fall for Minnick, was upset.
DeLuca Dropped The Charges Against Alex
Because Jo was afraid if she testified at Alex's court hearing her abusive ex-husband would find her, DeLuca dropped the charges against Alex so the case wouldn't go to trial. Although it was a nice gesture, it wasn't enough to make Jo want to date him. At least, not yet.
Alex Met Jo's Ex-Husband
At a medical conference, Alex came face to face with Jo's abusive ex-husband, Dr. Paul Stadler. Although Alex refrained from beating him up like he (and many fans) wanted him to, he'll have another chance since Stadler will be in Season 14.
Jackson & Maggie Like Each Other
Technically, this hasn't been confirmed yet, but if April is to be believed, Maggie's into Jackson and he's into her too. So will this ship actually sail next season or will Japril make a comeback?
Stephanie Left the Hospital
Many fans were worried Stephanie wouldn't survive the fire at Grey Sloan, but she was able to make it through and save a little girl too. However, after going through that traumatic experience and suffering serious burns, Stephanie decided to take a break from medicine and focus on herself for a while. We'll miss her this season!
Grey's Anatomy Season 14 premieres on Thursday, Sept. 28 at 8 p.m. EST.
Watch Romper's new video series, Romper's Doula Diaries:
Check out the entire Romper's Doula Diaries series and other videos on Facebook and the Bustle app across Apple TV, Roku, and Amazon Fire TV.