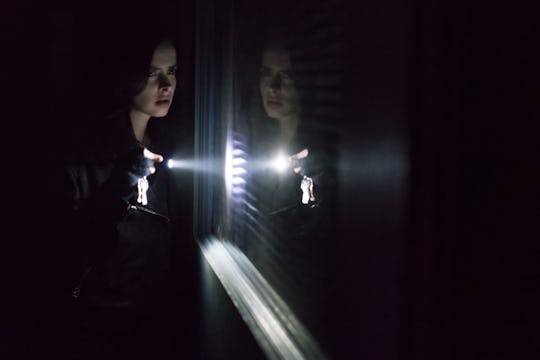 David Giesbrecht/Netflix
Everything You Need To Remember About 'Jessica Jones' Season 1
With the second season of Jessica Jones now available for streaming on Netflix, viewers might need a refresher on everything that came before, especially because it's been a couple of years since the show first premiered back in 2015. The major details might have stuck in your memory, but a recap of Jessica Jones Season 1 will help with anything important that may have slipped your mind.
Over the course of 13 episodes, fans got to know Jessica, a hard-drinking private investigator with a past she couldn't escape. But they were also introduced to the other characters who populated her world. That includes her best friend Trish Walker, a former child star turned talk show host; Malcolm Ducasse, the helpful neighbor with addiction problems of his own; Luke Cage, the handsome bartender tied up in Jessica's past traumas; and Jeri Hogarth, the tough lawyer who often calls on Jessica to do some investigating for her. Not every character who was a major player in the first season will find their way into the second, but they were all necessary to Jessica's journey.
Much of Jessica's story in Season 1 revolved around defeating Kilgrave, the man who abused and raped her several years before using his mind control powers. Though she killed him in the finale, her recovery will continue throughout Season 2 while she faces off against new foes and determines what her next step will be.
So without further adieu, here's everything you need to remember...
The Introduction Of Hope Shlottman
Hope Shlottman was one of Kilgrave's many victims. She was a young girl whom he used his controlling abilities on, first raping her and then forcing her to kill her own parents. Throughout Season 1, Jessica tried to prove Hope's innocence and free her from Kilgrave, but Hope killed herself towards the end of the season. Before that, Hope had an abortion after Kilgrave impregnated her. Jeri Hogarth secretly kept the fetal remains, which allowed Kilgrave to become more powerful in Season 1. Hogarth's decision could have continuing consequences in Season 2.
Jessica's Tragic Backstory
Jessica was tortured by her past, but that didn't just include the trauma she suffered due to Kilgrave. She had also lost her entire family in a horrific car accident which somehow resulted in her powers of super strength and flight. There is a lot Jessica still has to discover about what happened to her family, and Season 2 will explore that.
Jess & Trish's Sisterly Love
After the death of the Jones family, Jessica was adopted by Trish's abusive mother (and agent) Dorothy Walker as a publicity stunt. She wanted to get some good press for Trish, who was starring in the show Patsy! at the time. Trish and Jessica ended up bonding and becoming best friends, with Jessica using her strength to defend Trish against her mom. Their relationship will hopefully stay strong in Season 2.
Jessica's History With Luke & Reva
Jessica's relationship with Luke started off on the wrong foot. Though they had chemistry and formed a connection over their powers, they couldn't overcome the fact that not only had Jessica been stalking and spying on Luke since Episode 1, she had also killed Luke's wife Reva Connors under orders from Kilgrave. They parted on contentious terms, though they seemed to reach an understanding in The Defenders. However, now that Luke has his own show, don't expect him to return to Jessica Jones quite yet.
The Mysterious IGH
In the first season, Jessica learned that her powers might have been given to her by a group called IGH that experimented on her while she was in the hospital. Also connected to IGH is Dr. Kozlov, the man who gave Trish's former boyfriend Will Simpson (a solider turned cop who tried to murder her because Kilgrave told him to) strange pills that made him super strong, but sent him spiraling out of control. That story wasn't tied up in Season 1, so odds are it will be coming back in the new episodes.
That's just a fraction of what went on in the first season of Jessica Jones, but it's enough to make sure you're caught up to fully immerse yourself in Season 2 this weekend.
Check out Romper's new video series, Romper's Doula Diaries:
Watch full episodes of Romper's Doula Diaries on Facebook Watch.