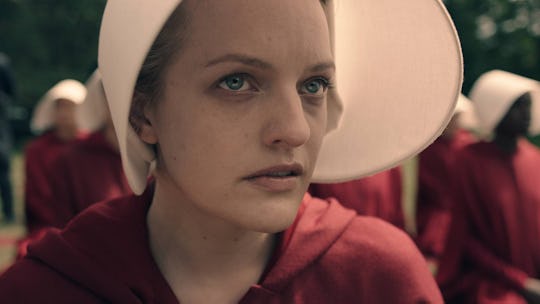 Take Five/Hulu
Everything You Need To Remember About Season 1 Of 'The Handmaid's Tale'
The first season of The Handmaid's Tale was a harrowing journey that had a lot of ground to cover in just 10 episodes. In adapting Margaret Atwood's novel of the same name, Hulu had to honor a beloved book while expanding its world and widening its point of view for a series. It elaborated on the story in intriguing new ways, making a recap of The Handmaid's Tale Season 1 necessary so you're fully caught up when Season 2 premieres on April 25.
The protagonist of the series is a woman referred to as Offred, though her real name is June Osbourne. Her new title is due to her position as a handmaid in the house of Commander Fred Waterford; she is "of Fred" because the totalitarian regime she lives under has stripped all women of their rights and identities. In the Republic of Gilead, they can be wives, servants called Marthas, or handmaids. Handmaids exist to bear children for high-ranking citizens and they're reduced to little more than walking wombs. Those who don't behave are punished with mutilation, sexual slavery, or banishment to work camps known as the Colonies. The world is filtered through June's perspective, though the series departs occasionally to focus on other characters too.
In addition to all that world-building, Hulu's The Handmaid's Tale had to go into the past to tell its characters' backstories so that their present circumstances would make sense. It was a complicated but compelling story, and here are all the details to keep in mind ahead of Season 2.