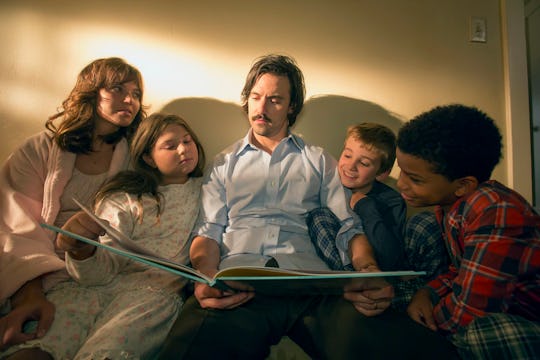 Ron Batzdorff/NBC
Relive Every Heartbreaking Moment From 'This Is Us' Season 1
In the first 18 episodes of This Is Us, fans learned almost everything there was to know about the Pearson family. The first season spanned decades in their lives and revealed the key moments that made the Pearsons who they were. But with so much going on, it can be easy to lose track of the details; a recap of This Is Us Season 1 may be necessary to jog your memory just in time for the Sept. 26 premiere of Season 2.
The first season of This Is Us introduced viewers to Jack and Rebecca, as well as their three kids Kate, Kevin, and Randall. Jack and Rebecca battled marital problems and parenting difficulties while trying to maintain the love that brought them together in the first place. Kate faced a lifelong struggle to accept herself and take control of her life while also navigating a new relationship with Toby. Kevin cried about being famous and then cried about having three beautiful girlfriends. Randall created his own family with his wife Beth and daughters Tess and Annie, but also sought to connect with his biological father William.
It was a season full of moments that both broke and warmed the heart, but here are some of the most important ones to keep in mind going forward.
Everyone Has The Same Birthday
Before it was revealed that they were all related, the initial hook of the series was that Jack, Kate, Kevin, and Randall all had the same birthday. That ended up being a storm of beautiful coincidences: Kevin and Kate were twins born on the same day as their dad, but Randall was an abandoned newborn who just happened to be taken to the hospital that same day. After Jack and Rebecca's third triplet Kyle died, they decided to take Randall into their home.
Rebecca Gets Remarried
Despite their difficulties, the Pearsons were such a loving and close-knit family that it was a shock to find out that Rebecca had remarried in the current timeline to Jack's best friend Miguel. While at first it was unclear where Jack was and why they were no longer together, it was eventually revealed that Jack had died. The cause, however, is still unknown.
Jack's Drinking
Jack's alcoholism was a recurring thread throughout the season. He struggled with it, stopping and starting again more than once, and many fans have begun to fear that it may contribute to his inevitable death.
Memphis
Randall and William's newly formed bond took a tragic turn when Randall discovered that William had terminal cancer; their time together would be limited even though they'd just found each other. They made the best of the situation, even taking a trip back to William's hometown in one of the sweetest episodes of the season, "Memphis." After finally understanding where he came from, Randall was able to comfort William in his final moments as he passed away.
Rebecca Hides The Truth
Good people can make bad decisions when they think they're trying to protect their loved ones, and Rebecca is no exception. She hid William from Randall for his entire life because she feared her son would be taken away from her. When the truth came out, it fractured Rebecca and Randall's relationship. They were able to make amends, but only time will tell if they can ever be as close as they used to be again.
Three's Company
Most of Kevin's story in Season 1 involved shedding his past as a sitcom star (shoutout to The Manny) in favor of artistic integrity, but he also dealt with several romantic conflicts. First he fell for his co-star Olivia, then his playwright (and also co-star) Sloane; then the show took a hard pivot to reveal Kevin was still in love with his ex-wife Sophie. They ended the season trying to make it work, but it's anyone's guess if it will — especially since a movie opportunity with Ron Howard may be taking Kevin away from New York.
Everyone Quits Their Job
Kevin ditched The Manny. Kate disappeared from her L.A. assistant job. Randall dropped the job no one could really understand or describe. They're all looking to chase after new dreams now, though I wonder how they'll be able to keep affording all their nice houses.
Gettin' Bi
The casual reveal that William was bisexual wasn't hugely important to the plot, but that was part of what made it so great. It was just a facet of who William was and the unexpected representation was a lovely surprise.
Kiss Me, Kate
Kate and Toby weathered a lot of ups and downs in Season 1. They had trust issues and differing personal journeys. Toby's heart issues were a major concern. They decided to get engaged before they really knew each other and they're still figuring out how to make it all work.
Sing With Me
Kate and Rebecca have always had a strained relationship, but they share one common dream: to sing. Rebecca may have sacrificed that dream to raise her family, but she still tried to fit in performing wherever she could. At the end of the first season, Kate decided to chase after the same goal. It might just bring them closer together.
Randall Wants To Adopt
Though Beth and Randall were relieved when she wasn't pregnant again after a scare in "The Game Plan," Season 1 finished with Randall deciding that he wanted to adopt. It makes sense that he'd want to give a child the same thing he had, but Beth might not be quite as ready for another kid.
There are a lot of stories left to tell on This Is Us, and fans will have to wait until Season 2 to see what comes next. Luckily they won't have to wait too long.
Watch Romper's new video series, Romper's Doula Diaries:
Check out the entire Romper's Doula Diaries series and other videos on Facebook and the Bustle app across Apple TV, Roku, and Amazon Fire TV.