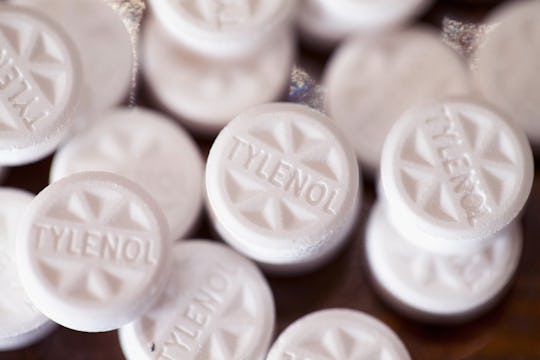 Scott Olson/Getty Images News/Getty Images
Recent Studies Say Tylenol During Pregnancy May Increase The Risk Of Hyperactivity In Kids
When an expecting mom has a pounding headache or her growing baby gives her pinching back ache, her over-the-counter options to relieve that pain are quite slim. Tylenol — also known as acetaminophen or paracetamol — is usually the go-to pill because it has been considered safe to use during pregnancy for decades. Now, however, recent studies suggest that taking Tylenol during pregnancy may increase the risk hyperactivity in children and other behavioral health problems. But, the evidence at hand isn't entirely clear or conclusive. According to a recent piece in The New York Times some researchers believe that the drug is capable of altering an unborn child's immune system or tweaking their hormonal and emotional development, but there are many other factors that also need to be considered.
The Food and Drug Administration (FDA) says that "Acetaminophen in both OTC and prescription products and the risk of attention deficit hyperactivity disorder (ADHD) in children born to women who took this medicine at any time during pregnancy" have been reported as potential risks with taking the pain medicine and urges pregnant women to always consult with their doctor before taking it.
But, without Tylenol, or other medicines with the same active ingredient, mothers-to-be have nothing to take when they have a spiking fever or any other type of pain that needs to be treated. And that's when the whole "all things in moderation" comes into play, experts say.
According the The New York Times, experts suggest that expecting mothers use the minimum amount possible, because something like an untreated fever can also have severe consequences, such as premature birth.
But, if taking a drug with acetaminophen is an understandably frightening option, Augusto Litonjua, a pulmonologist at Harvard Medical School told The New York Times that if pregnant women find themselves needing to take pain medicine too frequently, they should try natural pain management approaches like acupuncture or meditation.
The reason for this fear comes from a recent evidence, including the findings from a study published last month in JAMA Pediatrics found that behavioral problems were common in about 20 to 45 percent of children — out of the 7,800 women and their children who were studied over the course of more than seven years — who were born to women who took acetaminophen during pregnancy. The percentage was measured by testing the children at the age of 7 with a test called the "Strengths and Difficulties Questionnaire."
The findings are surely alarming and should be addressed, but one of the reasons they aren't completely conclusive is because, according to NPR, the researchers didn't ask women how much of the drug they took or why they took it. Another is that it's very unlikely that researchers will be able to come to a definitive answer on a larger scale on just how dangerous acetaminophen is to unborn children, because it would require potentially risky trials on pregnant women.
Other factors that are typically difficult to measure in a study like this are economical and social environments that possibly play a part in a child's behavior.
"Behavioral disorders are multifactorial and very difficult to associate with a singular cause," the CEO of the American College of Obstetricians and Gynecologists Dr. Hal C. Lawrence told CNN. "The brain does not stop developing until at least 15 months of age, which leaves room for children to be exposed to a number of factors that could potentially lead to behavioral issues."
The takeaway? Acetaminophen is in fact a drug and it could have potentially dangerous side effects. So, before eliminating the medicine completely or popping a pill, make sure ask your doctor what's the best way to treat your pain during pregnancy.