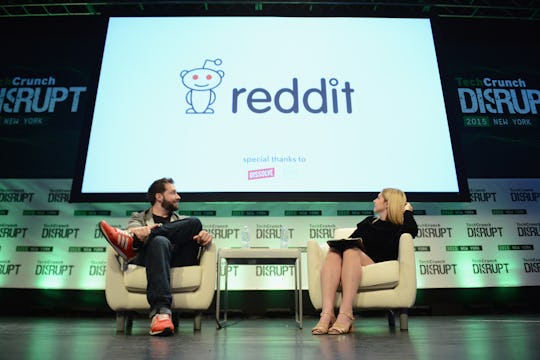 Noam Galai/Getty Images Entertainment/Getty Images
Reddit CEO Admits Editing Comments That Were Critical Of Him & That's A Huge Problem
Anyone who has taken a cyber-stroll through Reddit knows that the website is filled with trolls — but this week, its chief executive admitted to running a little interference of his own. Co-founder and Reddit CEO Steve Huffman admitted to editing comments users posted about him on the website on Wednesday, and the revelation has brought him a huge amount of backlash from the public. According to The Washington Post, Huffman would reportedly enter the subreddit r/The_Donald (a heavily pro-Trump forum on the website) and edit user comments that criticized him, switching mentions of his username with the usernames of the subreddit's leaders. "I abused my power to give the bullies a hard time," Huffman told The Washington Post on Friday.
He reportedly said it was only intended as a short-lived joke, to give the subreddit's moderators a glimpse of the abuse he was receiving. After all, as he told The Washington Post, "If The_Donald had done this to another Reddit employee, I would have banned them."
But Huffman's small joke reportedly violated employee policies — and, more importantly, it came at a time when the public's trust in social media has been thoroughly tested. Recently, Facebook has been battling the idea that fake news posted on its website influenced the 2016 election and Twitter came under fire for the role automated bots may have played in election coverage. Reddit representatives did not immediately respond to Romper's request for comment on the incident.
As for Reddit, Huffman's username-switching is only the latest election skirmish the company has been embroiled in. Reddit recently made the decision to ban the subreddit r/Pizzagate, a forum where users discussed a conspiracy theory that linked Democratic leaders to an alleged pedophile ring run from a pizza shop. Once users began posting personal details of the people reportedly involved in the discredited conspiracy, Reddit pulled the plug on the forum, but many users believed the decision amounted to censorship, according to CNBC.
Huffman's comment editing came after he received backlash for banning r/Pizzagate, which he acknowledged when addressing users' concerns over his actions. "As much as we try to maintain a good relationship with you all, it does get old getting called a pedophile constantly," Huffman posted in the pro-Trump subreddit when he explained his username-switching. "As the CEO, I shouldn't play such games, and it's all fixed now. Our community team is pretty pissed at me, so I most assuredly won't do this again."
But some might argue that the damage goes beyond the ire of Reddit users and its community team. Considering that 62 percent of American adults receive their news from social media — and 70 percent of Reddit users report that they get their news from the site — those working in social media are breaching a band of trust and professionalism when they meddle with users.
Tinkering with users' comments may not be the same as promoting one kind of news over the other or allowing fake news to propagate, but it's still a big breach of trust. If social media websites want to remain users' source of news, any small incident or perceived offense need to be taken seriously.