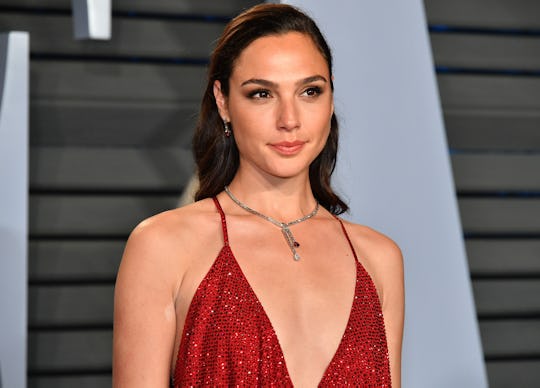 Dia Dipasupil/Getty Images Entertainment/Getty Images
Reebok's #BeMoreHuman Campaign Is Inspiring For Women Everywhere
When most people think of Reebok, a few things probably come to mind: Shoes, athletic wear, sponsorships. team shirts — you get the idea. It's one of those high-profile brands that's been around for a while, and the company pretty much synonymous with everything sports-related. Well as of today, the brand is celebrating strong women who have made positive changes to the world in their own, unique ways. That's because Reebok launched its inspiring #BeMoreHuman campaign with Gal Gadot, Ariana Grande, and more. And honestly? It's empowering AF.
On Monday, Reebok announced the latest installment of its Be More Human campaign, which encourages people to "be the best possible version of themselves physically, mentally, and socially," according to a news release. Featured in this campaign are athletes and artists, including: Gal Gadot (AKA Wonder Woman), Danai Gurira, Gigi Hadid, Ariana Grande, Nathalie Emmanuel, and Katrin Davidsdottir. For the campaign, each of these women will tell their personal story of overcoming barriers in order to become their best self, according to the news release. They will also be featured alongside influential women who have built organizations that are empowering women and making history. These powerful women include: Reese Scott, founder of Women's World of Boxing; Shannon Kim Wagner, founder of the Women's Strength Coalition; Jenny Gaither, founder and CEO of Movemeant Foundation; and Yelda Ali, found or Camel Assembly.
"What it means to be human is to being as accepting as possible of yourself and evolving," Ariana Grande says in her ad. "We're never done." Check out more of the videos below!
"There's nothing more powerful than women celebrating each other," model Gigi Hadid says in her spot. "The connection of sisterhood, to me, is profoundly crucial to how we can actually self-empower through seeing each other's greatness. Through validating the other, being the rock to another. You actually are empowering yourself as you empower one another."
"I always try where I can to step out of my comfort zone," actress Danai Gurira shares in her clip. "I think being more human is realizing no one wakes up feeling like a superhero. You have to find things on a daily basis that inspire you and that make you happy and feel creative, and feel like you want to get out in the world and make a difference."
Gal Gadot is yet another familiar face who is involved in the campaign, as Fashion Week Daily reported. "If I could give some advice to my teenage self ..." Gal Gadot says. "Don't be so hard on yourself. Don't be a perfectionist. Don't be afraid to fail. Because when we dare and when we don't fail, we change the world."
"Reebok has a long history of empowering women and supporting those who empower others," said Melanie Boulden, Reebok's vice president of marketing. "We did this back in the 1980s, when the brand helped usher in a new fitness movement, led by women, that changed culture and made it ok for women to sweat and have muscles. We are still at it today, developing innovative product for women, by women, and encouraging females to experience the physical, mental and social transformation that happens when we move — the essence of our Be More Human philosophy."
Not only has Reebok unleashed a fleet of inspiring videos for its #BeMoreHuman campaign, but the company is also releasing 10 different limited-edition shirts — each sporting an inspirational message from one of the women featured in the campaign. These shirts will be available rom July 15 to Dec. 31, 2018, or while supplies last. Even cooler? Reebok is donating 100-percent of the purchase price (not including tax or shipping, of course) to be split equally between the Movemeant Foundation and the Women's Strength Coalition. They're $35 apiece — and pretty darn inspirational, if I do say so myself.
Those who want to support the cause in other ways can opt to "Donate in Sweat." You can participate via social media by posting an original photo of yourself working out to Instagram or Twitter and tagging it with #BeMoreHuman. You can also choose to attend a select Reebok "Donate in Sweat" event. Find more details here.