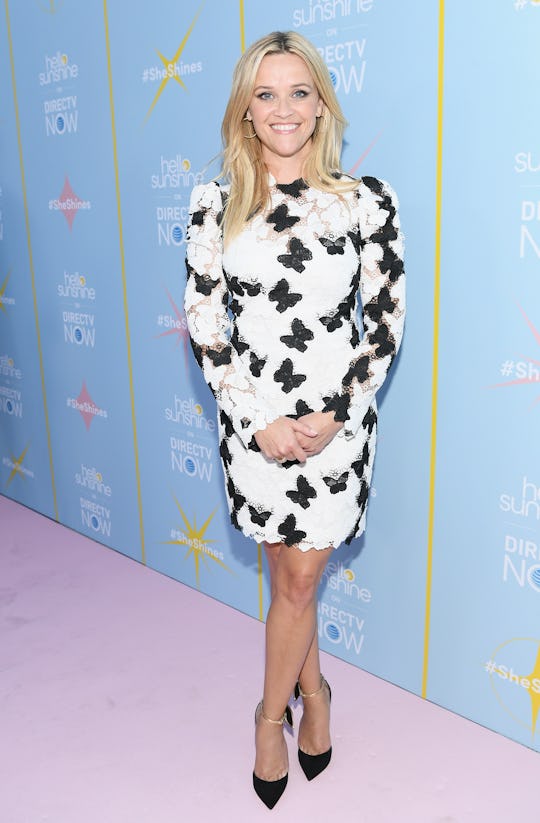 Emma McIntyre/Getty Images Entertainment/Getty Images
Reese Witherspoon Shared The Sweetest Photo Of Her Two Sons
It's a well-documented fact at this point that Reese Witherspoon's 19-year-old daughter, Ava Phillipe, is basically her twin, but judging by her recent Instagram post, it looks like her youngest son, 6-year-old Tennessee, happens to be the spitting image of his famous mama, too. Reese Witherspoon shared a sweet photo of her lookalike sons for National Sons Day, and in addition to being totally heartwarming, it's also further proof that the Witherspoon genes are seriously strong.
On Saturday, Witherspoon uploaded a photo of Tennessee with his brother, 14-year-old Deacon Phillipe hanging out at the kitchen table, and like his sister Ava, Deacon seems to strongly resemble both his mom and his dad, actor Ryan Phillipe. But as much attention as they get for looking like their parents, it turns out that Tennessee, whom Witherspoon shares with husband Jim Toth, could also easily be her double. The best part of the photo though? Even though Witherspoon used the pic as an opportunity to gush over her two sons, it also seems that they also have a seriously sweet relationship with one another: Tennessee looked beyond thrilled posing with his big bro in the pic, and requisite teenage coolness aside, the feeling definitely looked to be mutual for Deacon, too.
It's no secret that Witherspoon is one majorly proud mom, but in her post, she praised her sons, along with some of the awesome elements of living life as a #boymom. She wrote,
Did I miss #NationalSons day?? How could I not shout out these 2 guys who fill my life with laughter, sports equipment, & amazing music?! Guys, you have taught me so much… Because of you, I can name about 17 players in the #NFL and around 6 #FIFA players, too!
That likely sounds pretty accurate to anyone else raising growing boys, but it's definitely a sweet and funny sentiment. It's far from being the first time that the Oscar winner has dedicated her Instagram feed to her kids, though. In September, she shared a cute photo of Tennessee holding balloons on his birthday, and wrote that her son "makes [her] smile & laugh and remember the important things in life everyday." And earlier that month, she shared a similar post in honor of Ava's birthday, calling her "the sunshine in [her] life."
As close as her three kids appear to be with each other, it definitely appears that it's Tennessee and Deacon who have a particularly special bond. In August, Witherspoon shared a end-of-summer photo of her two boys on the beach, and once again, little Tennessee looked totally enthralled with his older brother:
And if that weren't already adorable enough, in June, Witherspoon shared a too-cute photo of Tennessee giving Deacon a huge squeeze-hug upon his return from summer camp:
In other words? Family life in the Witherspoon-Toth household looks like one big love fest. And honestly, it also looks super fun: earlier this month, for example, Witherspoon and Toth volunteered to be mystery readers for their son's class, and boy, did they ever take the surprise element seriously. In a super-cute Instagram video, Witherspoon revealed that she and Toth opted not just to read the Mo Willems book, I Really Like Slop to Tennessee and his classmates, they also decided to come dressed up as the main characters, Elephant and Piggie. (Now that is dedication.)
It honestly can't be easy to raise teens and a kindergartener, especially when you also happen to be an extremely busy working mom. But somehow, Witherspoon makes it all look effortless. And if the love between her kids is any indication, she's also doing a really great job.