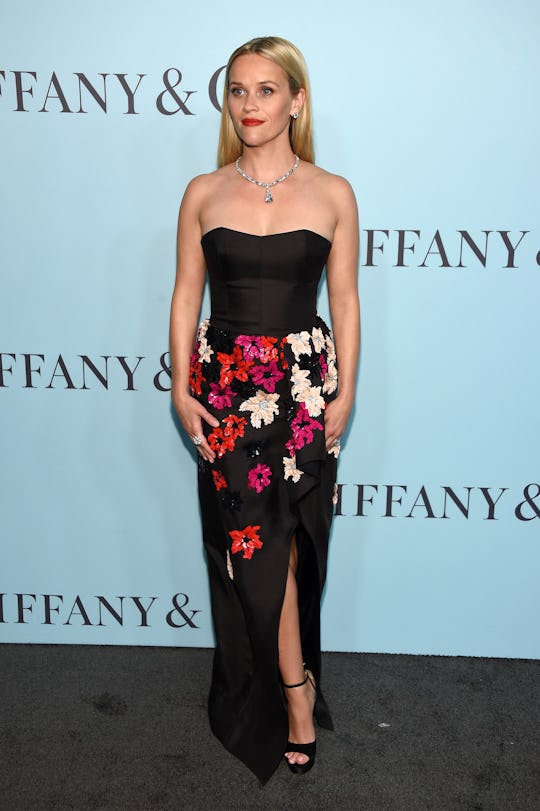 Dimitrios Kambouris/Getty Images Entertainment/Getty Images
Reese Witherspoon Talks About Mom Guilt & How Her Daughter Is So Much "Cooler" Than She Is
Reese Witherspoon seems to have it all, right? An Oscar, shiny hair, a successful career, and three gorgeous kids — her two oldest, Ava, 16, and Deacon, 12, from her first marriage to Ryan Phillippe and 3-year-old Tennessee with current husband Jim Toth. But even Witherspoon isn't immune to the highs and lows of motherhood. At a recent Blue Book 2016 event for Tiffany & Co. Reese Witherspoon talked about her own mom guilt, getting fashion advice from her daughter, Ava, and more.
As hard as it is to believe, America's movie sweetheart is all grown up with a 16-year-old daughter of her own. And if you think Ava is following in her mom's goodie-two-shoes image, you might be surprised. The teenager recently dyed her hair pink in advance of the Coachella Valley Music and Arts Festival last weekend. Her mom described her style to Us Weekly as "cutting edge." A pretty far departure from her mom's buttoned-up-cardigan fashion image.
"She's so much cooler than I am!" Witherspoon said. "... she knows a lot about fashion, and she has her own sense of style, which is amazing."
Witherspoon added that, if she wants to know about new styles, Ava is her go-to.
"She tells me whether or not I can wear things," Witherspoon said. Which is probably handy, because it can't be easy for wardrobe and stylist types to tell Resse-freaking-Witherspoon what she can and can't wear. That's the thing about daughters that comes in really handy: they're happy to tell you what you're doing wrong. Here's a cute pic of Ava and her pink hair at Coachella over the weekend.
And here's a super cute snap from Instagram of Ava and her very glam mama.
Witherspoon also mentioned at the Tiffany event that she, Roth, and her two oldest kids are in the process of teaching Tennessee how to read.
"...And that's a really great thing, to have my older kids teaching my younger children how to read," Witherspoon said. "Incredible memories that we're making."
But all the good genetics and professional acclaim apparently can't protect Witherspoon from the pitfalls of being a working mom and feeling terribly guilty about leaving her babies behind. When she was asked about whether she feels "mommy guilt" her answer sounded an awful lot like every other mother you might know, regardless of whether they've ever starred in a Hollywood blockbuster.
"Every day, all day long," she quickly responded. "Every time I travel it's very hard."
It's kinda nice to know even Reese Witherspoon doesn't feel like a perfect mom all the time. Maybe there's hope for the rest of us.
Also, anyone else feel like dyeing their hair pink after seeing how cute Ava looks?