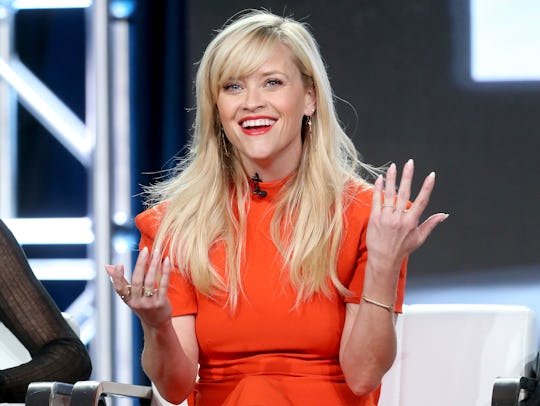 Frederick M. Brown/Getty Images Entertainment/Getty Images
Reese Exposes "Smurfette Syndrome" In Hollywood
Reese Witherspoon's acting career has spanned twenty-five years, and she's learned a lot about Hollywood in that time. She's taken on supporting roles and starring ones, and has even begun to step behind the scenes in an effort to bring the stories she loves to the screen. She formed her own production company, Pacific Standard, to do just that. Now she's serving as one of the stars and the executive producer of the upcoming HBO series Big Little Lies – which is all about women and their stories. At the TCAs, Reese Witherspoon talked about women in Hollywood, Big Little Lies, and dealing with something called the "Smurfette Syndrome."
The "Smurfette Syndrome" describes a phenomenon in media that's much too common where a film or TV show features one female character surrounded by men. "For twenty-five years, I've been the only woman on set, so I had no other women to talk to," Witherspoon said. "They call it 'Smurfette Syndrome.' Because she's got a hundred Smurfs around her and she's the only girl." But with its mostly female ensemble, making Big Little Lies was a different experience, and Witherspoon said it was "so refreshing to get to spend time with women."
Situations like that were what pushed Witherspoon into creating her own production company, which she did with partner Bruna Papandrea. Their company Pacific Standard was behind Gone Girl and Wild; together, Witherspoon and Papandrea are dedicated to bringing women's stories to life, as well as supporting new female talent. "It's such a bubble, and it's really hard to get your foot in the door, particularly if you're not from the same socioeconomic background," Witherspoon said a few years ago in an interview with The Hollywood Reporter. "If we educate young gals and give them the opportunity to see what a wonderful business it is, we could, ultimately, guarantee their success."
That passion for supporting women and giving them a voice was a motivating factor in adapting Big Little Lies for television, too. At the TCAs, Witherspoon spoke about that as well. "We learn from art, and what can you do if you never see it reflected? Things have to change – we have to start seeing women as they really are. We have to see real women's experience. Whether it involves domestic violence, whether it involves sexual assault, whether it involves motherhood or romance or infidelity or divorce. We need to see these things."
Witherspoon openly discussing the difficulties she's faced in Hollywood and using her platform to do so gives a voice to an important issue. And the best part is that Witherspoon isn't just talking about it: she's taking steps to try and change things.