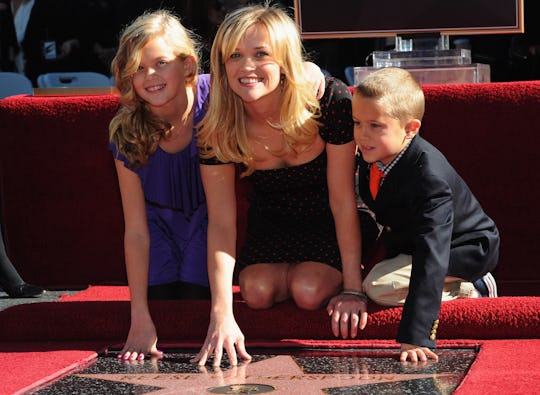 Alberto E. Rodriguez/Getty Images Entertainment/Getty Images
Reese Witherspoon's Birthday Message To Her Son Shows How Much He's Grown Up
I don't know why, but social media birthday shoutouts from parents to their children always get to me. It's marking another year of being a parent, another year of growth, love, and all that the child has learned. These types of post are shamelessly sappy and sentimental — and I can't get enough. This goes for celebrities, too. And Reese Witherspoon's birthday message to her son shows just how much he's grown up.
On Tuesday, Oct. 23, the actress took to Instagram to mark her middle child's 15th birthday. In case you've lost track though the years, Witherspoon has three children: Ava and Deacon Phillippe, whom she shares with her ex-husband Ryan Phillippe, and Tennessee Toth, whom she shares with her current husband Jim Toth, according to PopSugar. Alongside a photo of Witherspoon and the birthday boy standing on their fall-decorated porch, the proud mama penned a touching message to Deacon. "Happy Birthday to my wonderful, creative, kind, talented boy @deaconphillippe!" she wrote. "Everyday you teach me something new about beats, Fort Nite dances, fantasy football and cool sneakers. What a gift to be your mom. I ❤️you, buddy! (P.S. When did you get so tall!?) #Thisis15."
For the record, she's not exaggerating on the tall part — because Deacon is basically towering over his mom in this shot.
As one astute Instagram follower pointed out, "He's taller than you!!!!😘😘😂." (I'll say!) Of course, when your mom is 5 feet, 1 inch tall — as Witherspoon is, according to IMDB — that's not too difficult to accomplish. But it's still definitely a mom milestone, for sure.
Fellow parents also chimed in with their thought on how quickly time flies. One Instagram follower commented, "My girl turns fifteen in a few weeks. We blinked sister! ❤️"
Another follower wrote, "They just grow right before our eyes but they are still our babies 😊."
Yet another Instagram user chimed in with, "It's surreal how fast they grow isn't it? My middle son (I have 3) just got his learners permit to drive and I had to put his height down 5ft 10! I was like when did this happen?? Happy birthday to your son!!"
Is it just me, or does it seem like fans have seen and read a lot about Witherspoon's daughter, Ava — but not as much about her two sons? I'm guessing it's probably because she's basically her mom's twin. I mean, seriously.
Granted, I may be a few inches taller than Witherspoon, but the day of my son surpassing me in height is coming — and probably sooner than I'd like (He already comes up to my shoulders; so I'd be willing to bet that he'll catch up to me by age 12.) For some reason, seeing this photo of Reese Witherspoon and her son on his birthday makes me want to hug my 7-year-old son and never let go, because I feel like I'm going to blink and then he'll suddenly be turning 15, too. It goes that fast, guys.
So thanks for the reminder, Reese — and happy birthday to Deacon!