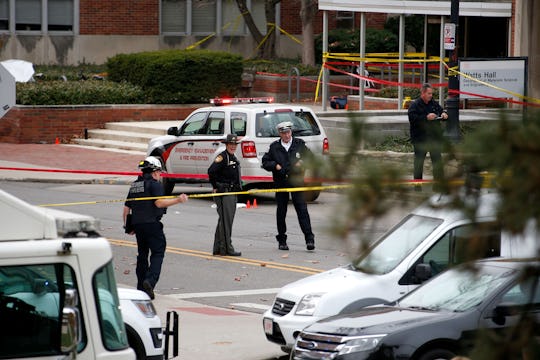 Kirk Irwin/Getty Images News/Getty Images
Refugee Crime Rates Show Using The OSU Attack To Prevent Their Resettlement Is Xenophobic
On Monday, an attacker drove his car into a group of pedestrians and stabbed multiple people at Ohio State University. The attacker is reportedly a refugee from Somalia. Some supporters of president-elect Donald Trump's strong stance on immigration are using the attack as proof that refugees put the country in danger. But refugee crime rates show using the Ohio State University attack to prevent them from coming to America is xenophobic.
Several media reports say that the suspect is an 18-year-old Somali immigrant who is a legal permanent resident. He was killed by police. The cause of the attack is unknown, but terrorism has not been ruled out, police officials reported. "We have to consider that it is that possibility [of terrorism]," Columbus Police Chief Kimberley Jacobs told CNN.
President of the Somali Community Association of Ohio Hassan Omar, told NBC News that he was upset to find out the attacker was Somali.
As a Somali community here, we are in a state of shock. In Columbus, we live in a very peaceful community. This is gonna affect the life of everybody. We are American and we don't want somebody to create this problem.
Immediately, calls to keep refugees out of the country have surfaced. Across the internet, some have invoked Trump's promise to build a wall — which makes absolutely no sense, since the suspect in question didn't come from Mexico and undocumented immigration is a separate issue.
This isn't the first time Americans have publicly expressed such xenophobia against refugees. TIME compiled data showing that America has consistently held xenophobic attitudes towards accepting refugees in the past.
"American humanitarian compassion could be exploited to expose Americans to similar deadly danger," Texas Gov. Greg Abbott wrote to President Obama after he announced 10,000 Syrian refugees would be accepted into the country following terror attacks in Paris.
But the data confirms these fears make no sense whatsoever. From 9/11 until 2015, the United States has taken in 784,000 refugees, the Migration Policy Institute reported. Of that number, three resettled refugees have been arrested in connection to terrorist activities. Three.
One user on Twitter pointed out how the nationality and race of those who commit acts of mass violence who are foreign-born or a person of color will gain attention, but not when the attacker is white. This is despite the fact that Mother Jones compiled data revealing that the majority of mass murders (64 percent, to be exact) are committed by white men — and the percentage of attacks from several ethnic groups is proportional to their population in the United States.
President-elect Trump and others on the far-right have done enough fear-mongering to make people believe that if one refugee is bad, it means they're all bad. But if that was the case, it'd mean all gun owners are violent since far more than one gun owner has been violent before.
We don't know anything about the attacker to say he is anti-American, or that he is a member of ISIS. But as soon as some people found out he's a refugee, that's the only conclusion they choose to believe. Let's make a different choice and believe the facts.