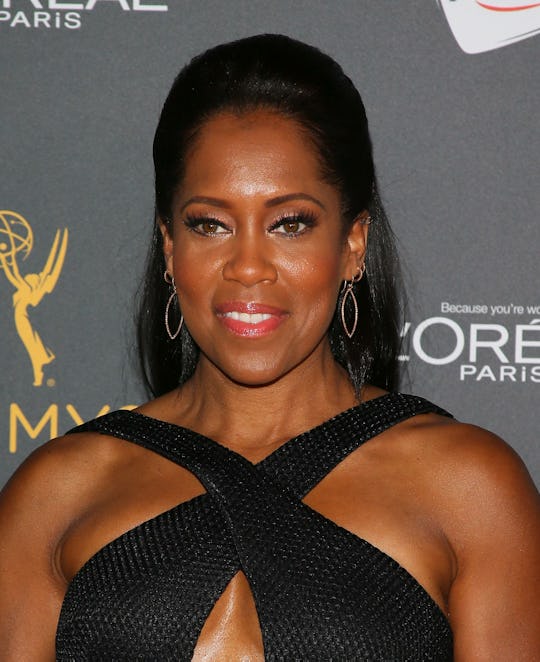 JEAN BAPTISTE LACROIX/AFP/Getty Images
Regina King's 2016 Emmy's Red Carpet Comment About Work & Breastfeeding Was Spot On
Being a working mom isn't always easy, but thankfully Regina King has been lucky enough to have a job that understands what it means to be a working mom. On the 2016 Emmys red carpet, King commented about work and breastfeeding and everyone needs to hear what she had to say. Emmy nominated this year for her role in American Crime, King reflected back 20 years to when she starred in Jerry Macguire alongside Cuba Gooding Jr. who is also Emmy nominated this year. When asked about what her fondest memory of being a part of that movie was, King remembered how great it was to be a new mom on a set that was very supportive.
"Honestly I just had my son the month before we started shooting and just being able to be in an environment that embraced a new mom," King said. "And they took breaks when it was time for me to nurse and that's what I remember. I remember being able to be an actress and still be a mom and that's special."
It really is special. Unfortunately, in the U.S., many moms don't get paid maternity leave and definitely can't breastfeed on the job. The fact that King was able to have a child only a month before the film began to shoot and was still able to work is an amazing opportunity that not many mothers get to have. It's awesome that King spoke about this and shined a bit of light on this because the truth is although it is amazing that King was able to breastfeed on set it shouldn't be surprising, it should be expected.
King has come a long way since her role in Jerry Macguire. At last year's Emmys King won the Emmy for her role in American Crime and now she's not only acting but directing as well. She recently worked with Oprah, directing an episode of the OWN show Greenleaf, and she's also directed episodes of The Catch and Scandal.
It would be amazing to see King win an Emmy again this year but for now she already wins huge awards for her words on the red carpet and her amazing Elizabeth Kennedy dress.