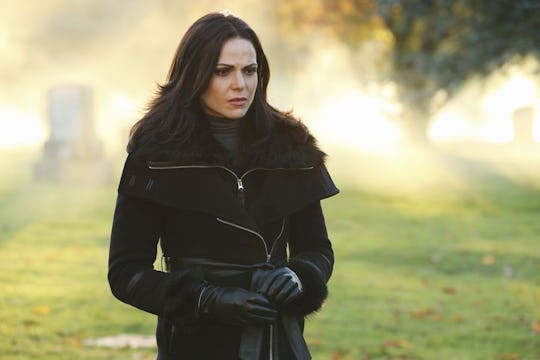 Jack Rowand/ABC
Regina Says Goodbye To Her Dad On 'Once Upon A Time,' & Now He's Finally In A Better Place
Once Upon a Time hit its 100th episode on Sunday, and what better way to celebrate than by a really sad goodbye between father and daughter? On Once Upon a Time, Regina said goodbye to Henry, her father, after Cora forced her hand in leaving the Underworld to spare him. The always doting father has always supported his daughter, despite some of the decisions she's lead to make because of Cora. And, although it was a sad moment between Regina and "Daddy," it was ultimately for the best, since Henry gets to move onto a better place at last.
When arriving in the Underworld, the gang was shocked to see the state of living. They soon realized that the Underworld is for people with unfinished business, and embarked on their journey to find Hook. Unfortunately, this episode didn't prove to be very successful in that mission. Although they found Hook's grave and were able to summon him (?), he couldn't hear them to tell them where to find him. Hopefully next week's episode is a bit more promising now that they know what they're dealing with in the Underworld.
Meanwhile, Regina faced her own family issues. Cora was very adamant about her leaving the Underworld, threatening to basically forever banish her father if she remained. Regina forced Cora to show her hand at the fiery pits of Hell, it seemed.
Sadly, Cora didn't lie about what she had to do. But, when Henry was surrounded by flames — which appeared to be his end — he surprisingly didn't actually go anywhere. Instead, a beautiful light opened up in the cavern and he was drawn towards it. This promising path was the better place Regina always wanted him to be.
Before he left, Regina's father was able to meet Henry, his grandson. The two were able to thank the other for always being there for Regina — are all Henrys on OUAT just the nicest people ever, or is it just me? — before "Daddy" walked toward the light. Meanwhile, Cora pays a visit to Hades, only to be made into a servant for eternity. Not quite the trip I think she was planning on, but something tells me she'll figure out a way to get out.