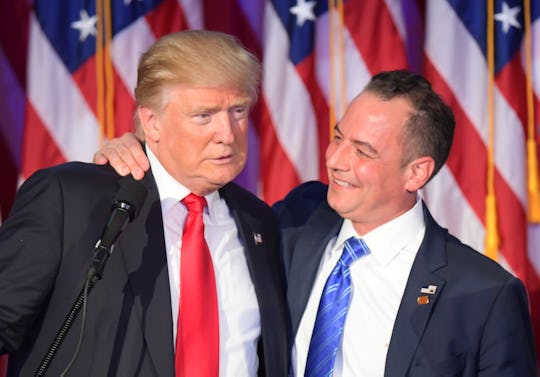 JIM WATSON/AFP/Getty Images
Reince Priebus Reportedly Named Trump's Chief of Staff
According to The New York Times, President-elect Donald Trump's transition team announced on Sunday that Republican National Committee chairman Reince Priebus will be named Trump's chief of staff. This connection could help mend Trump's relationship with the Republican Party, which came under strain after several top Republicans refused to support Trump's bid for the presidency. Priebus often defended Trump throughout his campaign, and he became a close ally leading up to the election.
Leading up to the announcement, some suggested that Breitbart News executive chairman Stephen K. Bannon was being considered for the role of chief of staff, but the transition team revealed Sunday that Bannon would fill the role of chief strategist and senior counsel instead. In a statement released by Trump's transition team, Bannon said, "We had a very successful partnership on the campaign, one that led to victory. We will have that same partnership in working to help President-elect Trump achieve his agenda."
As for Priebus, he praised Trump and said the chance to serve as chief of staff was an honor. "I am very grateful to the President-elect for this opportunity to serve him and this nation as we work to create an economy that works for everyone, secure our borders, repeal and replace Obamacare and destroy radical Islamic terrorism," Priebus said in a statement.
"I am thrilled to have my very successful team continue with me in leading our country," Trump said in a statement on Sunday. "Steve and Reince are highly qualified leaders who worked well together on our campaign and led us to a historic victory. Now I will have them both with me in the White House as we work to make America great again."
Trump's decision to appoint Priebus as chief of staff will likely draw equal amounts of support and criticism. Many Republicans will see the appointment as reassurance that a Trump administration will remain conventionally Republican and continue to fight for Republican agendas. Those who supported Trump because they wanted a massive shift from the norm, however, may criticize his appointment of Priebus, a long-time Washington insider.
Priebus, who will work closely with Trump to set the presidential agenda over the next four years, has been the RNC chairman since 2011. Before that, he worked his way up through the ranks of the Republican Party of Wisconsin. Leading up to Inauguration Day, Bannon and Priebus will be working together with Vice President-elect Mike Pence to lead the Trump team's transition into the White House.