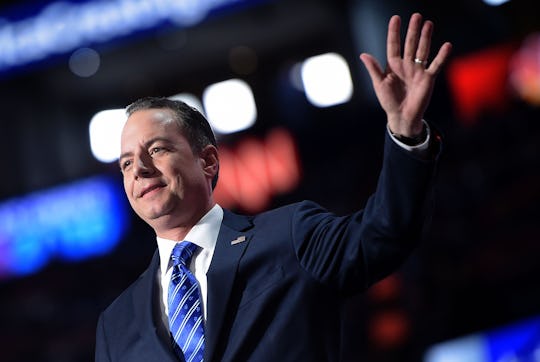 BRENDAN SMIALOWSKI/AFP/Getty Images
Reince Priebus Says Steve Bannon Isn't Racist & That's Not Only Scary, It's Incorrect
All those who breathed a sigh of relief when President-elect Donald Trump picked Reince Priebus as his chief of staff, hoping that the former RNC chairman would be a moderating influence, had better suck that sigh right back in. Priebus will be working alongside Breitbart CEO Steve Bannon, and when asked about Bannon's controversial appointment as Trump's chief strategist and senior counselor, Priebus failed to condemn him for his alleged white nationalist, anti-Semitic, anti-Muslim, and misogynistic views. The fact that Priebus refused to acknowledge Bannon's racism alone is a troubling sign for the next four years. Romper reached out to Priebus for comment, and did not immediately hear back.
Before working on the Trump campaign, Bannon ran Breitbart, a conservative news website that has become a haven for white nationalists and the alt-right. Yet while making the rounds on various news shows on Monday, Priebus responded to questions about Bannon's extreme views by saying on Fox & Friends, "I haven't seen any of these things that people are crying out about."
Separately, on the Today Show, Priebus first tried to diminish Bannon's role in the most controversial Breitbart articles hitting headlines recently by saying that Bannon didn't write them (although he was the head of the website when they were published). "The guy I know is a guy that isn't any of those things," Priebus said. "... Here's a guy who is Harvard Business School, he was a ten-year naval officer, London School of Economics, I believe. He is a guy who is very, very smart, very temperate."
Apparently if you go to fancy schools and are nice to Reince Priebus, all your views are automatically cool and fine. So let's take a look at some of those views:
When it comes to women, Bannon has praised the conservative movement's female leaders by saying that they "wouldn't be a bunch of dykes that came from the 7 Sisters schools." Similarly, under Bannon's leadership, Breitbart ran stories telling women who received online harassment to just "log off" to stop ruining the internet for men, in addition to spreading misleading stories about Planned Parenthood. When it comes to Muslims, Breitbart trafficked in anti-Muslim conspiracy theories and fear. When it comes to African-Americans, Bannon implied that they were "naturally aggressive and violent," and that African-Americans getting shot by cops "did things to deserve it." (As CNN's Jake Tapper pointed out during a segment on Monday, Breitbart even has its own "black crime" editorial tag, for users to search the site.) Bannon's ex-wife has also testified in court that Bannon allegedly didn't want their children going to a school with Jews.
And that's just the tip of the iceberg. A round-up of all of Bannon's hateful comments, as well as all the hate he allowed on the website he was running, would take hours to read.
Multiple outlets have condemned Bannon's new role in the campaign, from the Anti-Defamation League to the Southern Poverty Law Center, a watchdog for hate groups.
On the other hand, David Duke, former KKK leader, is thrilled:
Bannon will have the president-elect's ear as one of the most influential members of his staff. Since Trump lacks governmental experience, he is likely to lean more heavily on his staff's advice than past presidents have.
It's a scary situation. And Priebus's evasions about Bannon show that he isn't going to be the moral backbone that many were hoping for.