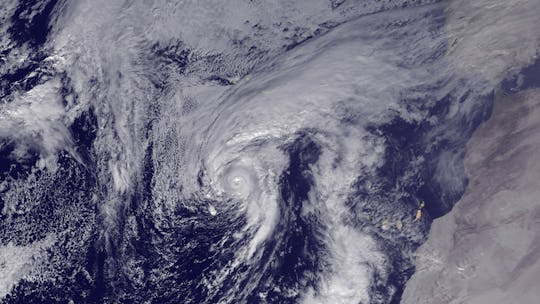 Handout/Getty Images News/Getty Images
Rejected Names For Hurricanes That Are So Much Better Than The Ones On The Official List
It is almost officially the summertime, which means one thing for those who live on the Atlantic coast of the United States: It's hurricane season. The time of the year where weekend barbecues and trips to the beach that you've been planning for weeks can be cancelled within a moments notice due to a hefty combination of strong winds and rain showers. For those who grew up on the east coast, it's easy to understand the pain that hurricanes can bring. But in light of the impending hurricane season and perhaps in an attempt to keep things light, many are taking to Twitter to suggest rejected names for hurricanes that are so much better than the ones announced by the National Hurricane Center last week.
The National Hurricane Center at the National Oceanic and Atmospheric Administration has been naming hurricanes since 1953, and last week, the center debuted its picks for the official 2016 season. According to the NOAA, the names of the hurricanes are maintained and updated through strict procedures from the World Meteorological Association. Currently, there are six lists of names used for the hurricanes that get recycled every six years. Therefore, the names used this year will be used again in 2022.
The names are determined alphabetically and alternate by feminine/masculine usage. This year's bunch include Alex, Bonnie, Colin, Danielle, Earl, Fiona, Gaston, Hermine, Ian, Julia, Karl, Lisa, Matthew, Nicole, Otto, Paula, Richard, Shary, Tobias, Virgine, and Walter.
Of course, Twitter has some different ideas.
A Name That Could Really Cause Some Damage
"Stay home, folks, Swirly McWindface is wreaking havoc on the beaches and roads."
Banana-Fanna-Fo
The perfect way to name a hurricane is to play the name game. "Hurricane bo Burricane banana fanna fo Schmurricane..."
The Irony
If only it brought sunny skies with it.
The Hurricane That Must Not Be Named
Hey, they are pretty powerful and undefeated.
It Gets Less Powerful When It Reaches The Blue States
Hurricanes do weaken once they reach the land for too long... or Democratic voters.
Lemonade, Lemonade
"Becky" prompted a hurricane of tweets once Lemonade was released, so this one feels fitting. She's not to be underestimated.
Evacuate Immediately
Once she reaches your home, there is no stopping her.
The Most Kid Friendly Hurricane Out There
Ticklish, funny, and the kids love him. What could be better? Just remember to teach your kids that hurricanes will not be teaching them about sharing or the alphabet anytime soon.
Who Is She?
"What are you wearing, Hurricane Jake from State Farm?"
At The Copa, Copacabana
Grandmothers everywhere would love this hurricane and welcome it with open arms.
It Was Number One
The true owner of the soda-drinking-cap to cause chaos in Bikini Bottom. Sponge Bob, anyone?
It Will Make You Feel Fine
Blowin' through the jasmine in my miiiiiiiiiind.
Found Only In The Hundred Acre Woods
Chubby little hurricane all stuffed with, um — wind and rain.
When It Hits...
...it hits hard.
It Comes Once A Month
...and sometimes leaves a major disaster in its wake.
It Might Be Our Only Hope
Instead of destroying, it would save us all.
There are plenty of options out there. Here's hoping the National Hurricane Center takes these gems into consideration for next year's list.