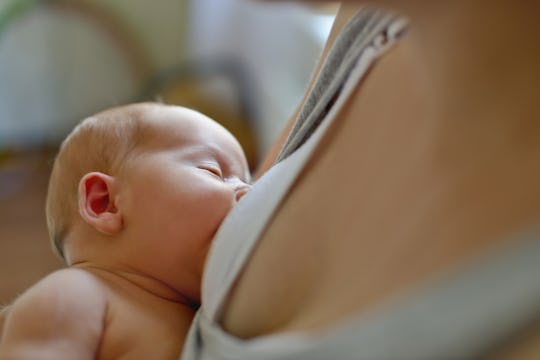 Relieving Breastfeeding Engorgement At Night Is Possible — Here's How to Do It
Picture this. Your baby's sound asleep, possibly for the first night ever. You're lying in bed, desperately for some shut eye yourself. But instead, your breasts are engorged and swollen, throbbing and aching. Milk starts to leak from your nipples. What to do? There's nothing worse than being kept awake at night with engorgement, but luckily, you don't have to suffer. Relieving painful engorgement in the middle of the night isn't as hard as you think.
Breastfeeding is tough, and there's a lot you don't know about it until you're actually doing it. I didn't quite understand that my body would be ready to feed my baby all the time — even if my kid was sound asleep. There were many nights I'd wake up in puddles of milk after my baby had slept a longer-than-normal stretch. Breast pads were my best friends in the early months, as they kept me from having to change clothes (and sheets) several times a night.
And since sleep is such a precious commodity when you have an infant in the house, maximizing every minute you can get is crucial. Being kept awake by throbbing engorgement or leaking milk is the last thing you want when you could be sleeping. Here are a few tricks to relieve nighttime engorgement so you can long a few hours of sound sleep and sweet dreams.