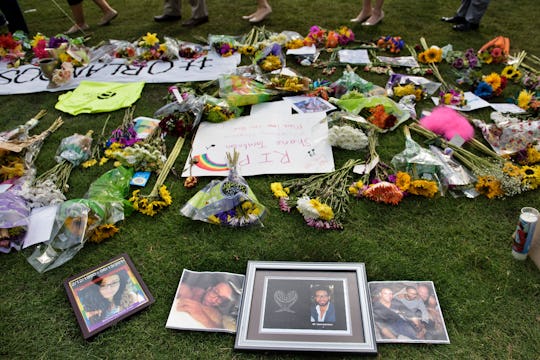 BRENDAN SMIALOWSKI/AFP/Getty Images
Remember Eddie Jamoldroy Justice For His Life, Not His Texts
When I woke Sunday morning, I woke as most individuals did: ignorant to the events that had unfolded in Orlando just hours earlier. I got dressed, did my makeup, and headed out the door. It wasn't until I arrived at the train station that I heard about the shooting— the devastation, the deaths, and the tragedy at Pulse; immediately, I text a dear friend "are you OK? Did you know anyone affected by the shooting?" He was fine. His friends were safe, but many — like Eddie Jamoldroy Justice, the Pulse victim who is now known for texting his mother — were not. And while I have read Eddie's text messages, just as millions of others have, it is important we remember Eddie Jamoldroy Justice for his life, not his texts.
Justice was a 30-year-old accountant who lived in downtown Orlando. In an interview with the Associated Press, Eddie's mother, Mina Justice, said her son was successful and she believed he lived the high life:
[Justice] lives in a sky house, like the Jeffersons. He lives rich.
Mina also described her son to the AP as someone with a great sense of humor; Eddie liked to make people laugh. But Eddie was more than a comedic persona; according to a GoFundMe page set up for Eddie Jamoldroy Justice (and his family) by one of his cousins, Eddie was "very loving and outgoing":
[Eddie was] the life of the party...[He] could walk in and the room would light [it] up. His smile was as bright as his fut[u]re. He was also very upfront and outspoken and lived life to the fullest without any regrets.
Make no mistake, Eddie's texts are important. They have helped shed some light on what actually happened inside of Pulse. They have brought us all into the tragedy and allowed us to experience but a speck of what he and the other nightclub goers must have felt early Sunday morning, but they are not what defined this young man, and they should not be what he is remembered for.
Eddie was more than a few frantic words and messages. Eddie's life was so much more important than his death, and while I did not know Eddie, everything I have read about this young man leads me to believe he was warm and compassionate. He was loving and outgoing, and he was bright. He was a personality. And that is who we should be remembering, because he — and the hundreds of other people in Pulse — were more than victims targeted by a hateful man.