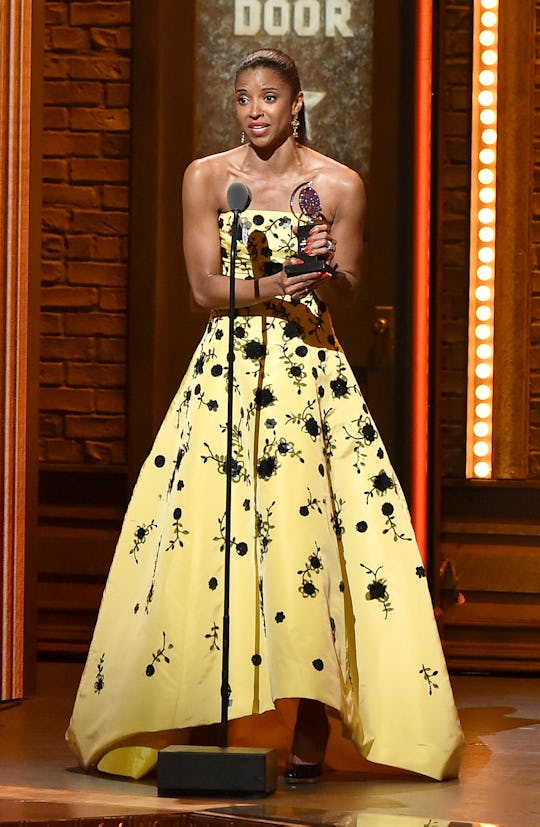 Theo Wargo/Getty Images Entertainment/Getty Images
Renée Elise Goldsberry's Tonys Acceptance Speech About Motherhood Will Make You Cry
Renée Elisa Goldsberry took home the Tony for Best Featured Actress In a Musical for her role as Angelica Schulyer in Hamilton, marking her first Tony win ever. And although her performance in the Pulitzer Prize-winning show is certainly a scene stealer, it was Renée Elise Goldsberry's Tonys acceptance speech that stole the show. The actress brought everyone to tears as she explained how you can really get everything you've always wanted.
"I would just love to say that if you know anything about me I have spent the last 10 years of my life but some would consider the life blood of a woman's career just trying to have children," Goldsberry said as she took the stage. "And I get to testify in front of all of you that the Lord gave me Benjamin and Brielle and he still gave me this."
According to People, Goldsberry gave birth to her first child in May 2009, and she, along with husband Benjamin,adopted their daughter, Brielle, in 2014. Goldsberry speech was inspiring especially for those that have been through the struggle of infertility and know what it's like to finally have your dreams come true. Seeing Goldsberry not only proudly hold her Tony up high, but knowing she also has the family she's also wanted was enough to bring the audience to tears.
In her acceptance Goldsberry also thanked the creators of Hamilton, including Lin-Manuel Miranda, and also thanked the entire company of Hamilton.
"When one of us win we all win because we are one," she said. "I love you."
Goldsberry also thanked her parents who were in the audience as well as her husband.
"Hamilton has been one once in a lifetime moment after another and still the best moment of everyday is going home at night to my husband Alexis I love you so much," she said.
It's clear how much this moment means to Goldsberry. Her heartfelt speech was not only inspiring, but heartwarming. And it was amazing to watch all her dreams finally come true.