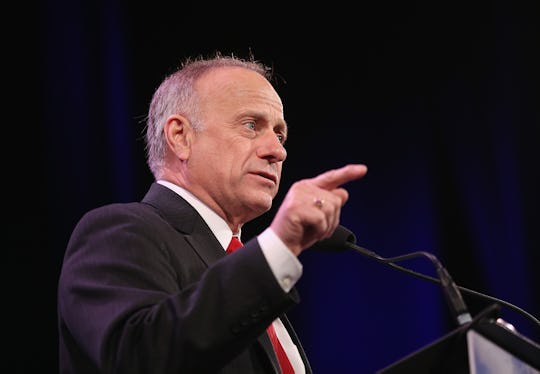 Scott Olson/Getty Images News/Getty Images
Everything Wrong With Steve King's "Babies" Tweet
On Sunday, Iowa Rep. Steve King tweeted out his support of the Netherlands' Geert Wilders, a far-right candidate with a strong anti-immigrant stance. In a rather incendiary tweet, King wrote, "Wilders understands that culture and demographics are our destiny. We can't restore our civilization with somebody else's babies." The tweet raised several questions for some — whose babies are we talking about, exactly? — but it also drew praise from others: Kings "babies" tweet was applauded by white supremacists like former Ku Klux Klan leader David Duke.
King's tweet linked to an article by Voice of Europe, an "anti-EU" media source which claims it brings readers "real news from a beautiful continent in danger." The tweet read: "Hundreds of Islamists shouting 'Allahu Akbar' in Rotterdam, the Netherlands. Wilders is right for over 10 years."
King's "babies" response was quickly praised by Duke, who wrote, "Just in case you were thinking about moving -> sanity reigns supreme in Iowa's 4th congressional district. #MakeAmericaGreatAgain." He later tweeted, "GOD BLESS STEVE KING!!!"
This isn't the first time King, who has represented Iowa in Congress for over a decade now, has made controversial comments about immigration and race. In 2016, King displayed a Confederate flag on his desk, which is extra odd because, as The Washington Post pointed out, Iowa was a Union state in the American Civil War. King also said it was "racist" and "sexist" to put Harriet Tubman's face on the $20 bill, and tweeted, "Cultural suicide by demographic transformation must end," while praising a German nationalist.
King may have received praise from white supremacists on Sunday, but he received much more criticism from the public and other Congress representatives.
In 2016, King also upset the public when he questioned the contributions of "other categories of people" other than those from "Western civilization," according to The Des Moines Register. "This 'old white people' business does get a little tired," King said on an MSNBC panel. "I'd ask you to go back through history and figure out, where are these contributions that have been made by these other categories of people that you're talking about, where did any other subgroup of people contribute more to civilization?"
King recently criticized the "Day Without Immigrants" protest as well, writing on Twitter: "Immigrants r welcomed by their American hosts. Let's try a Day Without Illegals." He also retweeted a Voice of Europe video that claimed, "Multicultural Sweden is an uncontrollable mess," along with his own commentary, saying, "This is where all Western Civilization is headed unless we reverse course."
Iowa Democratic Party Chairwoman Andy McGuire has criticized King for his nationalist comments in the past, saying in 2016:
Donald Trump built his candidacy on hate speech, division and anti-immigration rhetoric. Rep. Steve King is merely following Trump's lead with his latest blatantly racist comments. Iowa Republicans, including Sen (Chuck). Grassley, cannot continue to condone the current Republican message of hate by blasting political correctness. Steve King's comments and Donald Trump's candidacy are not simply 'politically incorrect'. They are divisive and extremely dangerous for our country.
King has yet to expand on his "babies" tweet, and hasn't explained what constitutes "somebody else's babies." Judging by the public's overwhelmingly negative response to his tweet, however, it seems like many Americans are waiting on that explanation.