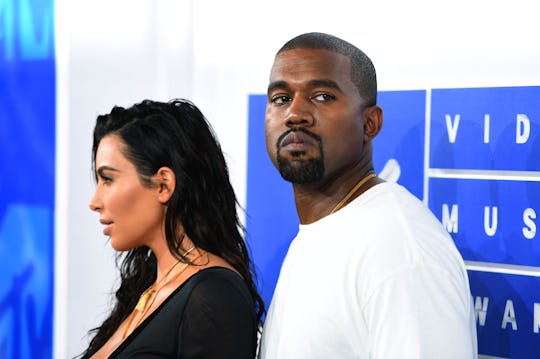 Larry Busacca/Getty Images Entertainment/Getty Images
Report Claims Kim Kardashian Wants To Divorce Kanye West, & It's Devastating News
The Kardashian family has been uncharacteristically low-key lately, but that doesn't mean they're not still making headlines. Hold on to your hats, because this latest one is huge: on Wednesday, Us Weekly published a report claiming that Kim Kardashian wants to divorce Kanye West, her rapper husband. So is this just your everyday tabloid pot-stirring, or could the rumor be true? Us seems to have the best source hookup, as it's consistently first to the presses with the inside scoop on all things Kardashian. Romper has reached out to Kardashian's representative for comment but did not immediately hear back.
Us also claimed last month that Kardashian and West had been fighting for weeks as a byproduct of the Paris hotel robbery in October that left the couple traumatized. West has historically leaned on Kardashian for support, the magazine alleged, but after she was tied up and held at at gunpoint, she turned to her husband for strength. But he was allegedly "paranoid and freaked out" over the notion that he could have lost his wife, and was unable to comfort her. As a result, Us claimed, she didn't join him on tour, which was a factor in his recent breakdown.
After a series of bizarre rants, in which he named-checked everyone from Trump to Beyoncé, West walked off stage in Sacramento in November after playing just two songs at what became the last concert of his tour. The rest of the scheduled concerts were officially canceled two days later, and that same day, paramedics were summoned to West's personal trainer's home at the behest of his physician, the Washington Post reported. West was hospitalized and put on an involuntary psychiatric hold. He was released after a little more than a week, and sources told People magazine that he is not living at home out of Kardashian's concern for their two young children.
The source for Us claimed that Kardashian is holding off on filing for divorce for the time being, which would be understandable given West's current state. Her sister, Khloé, famously put her divorce from former basketball player Lamar Odom on hold last year when he was struggling with health and addiction issues after his overdose in Nevada (the divorce was finalized in July of this year). If the rumors are true, this would be Kim's third divorce. She was previously married to music producer Damon Thomas for four years, and basketball player Kris Humphries for seven weeks. But given that there are children involved this time around, things could be significantly more complicated.