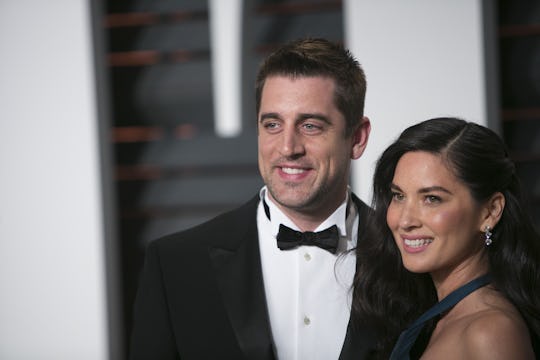 ADRIAN SANCHEZ-GONZALEZ/AFP/Getty Images
Reporter Blames Olivia Munn For Aaron Rodgers' Poor Performance, & His Teammate Has The Best Response
Being in a relationship is hard work. Especially when your boyfriend's a professional NFL player and you're being blamed for an entire team's bad performance mid-way through the season, like, for instance, when a reporter blamed Olivia Munn for Aaron Rodgers' poor performance so far this season. Munn took the ESPN sports reporter to task when, in a list of "5 Reasons Aaron Rodgers Is Struggling This Season," he included her as reason number five, just for being in the stands. Rob Demovsky, the writer, linked to a tweet from a fan that mentioned running into Munn at Lambeau Field last Sunday.
But it was fellow Green Bay Packer Clay Matthews who gave the final word. Matthews defended Munn, telling E! News that:
When the media suggests there are problems at home or that problems are derived from someone's personal life or who they are dating, I think the media is out of line in that regard.
Thank you, sir. Matthews has a solid point, if only that extra media attention is a distraction to his teammate on the field. And we're all professionals, right? It's very unfair to blame a significant other for someone's poor job performance. After the listicle hit the Internet this week, Munn took Demovsky to task on Twitter. Her main beef was that the fan who mentioned running into her at the stadium is also just an overall jerk:
It's very unfair to blame the girlfriend for an athlete's bad showing. In fact, it's kind of impossible to blame anyone's partner for their performance. Sure, our emotional lives affect us, but they're not the sole reason a person plays well or plays terribly. There were four other solid reasons Rodgers could be off his game; there was no need to speculate on his home life. It's icky to suggest that a woman would be anything but supportive of her man and her mere presence at the hot-dog counter is insidious. It plays into the very outdated idea that a woman could be "distracting" to a man. It's also insulting to Rodgers, suggesting that he wouldn't be able to perform if he and Munn had had a spat that morning about taking out the trash or something silly. Come on.
But Munn isn't the first woman to be blamed for a team's bad season. Ciara has been accused of psyching out the Seahawks Russell Williams. Way back, when Jessica Simpson dated Tony Romo, the Los Angeles Times called her Romo's "bad luck charm." If you love a game or a team, it's so easy to get defensive and protective of their record. And in a fit of disappointment, it's totally normal to want to rationalize their performance. But it's not fair to assume that just because a man is in a relationship with a woman, who shows up to cheer him on, she's the responsible for a few fumbles.
If the fan had seen Munn and Rodgers fighting in the parking lot before the game, maybe would have been worth reporting on (maybe, on a slow news day). But he didn't. He spotted Rodgers' girlfriend in the stadium and a reporter linked that to the loss. That's just lame. Total touchdown for Munn for noticing and for Matthews to have her back.
Image: ADRIAN SANCHEZ-GONZALEZ/AFP/Getty Images