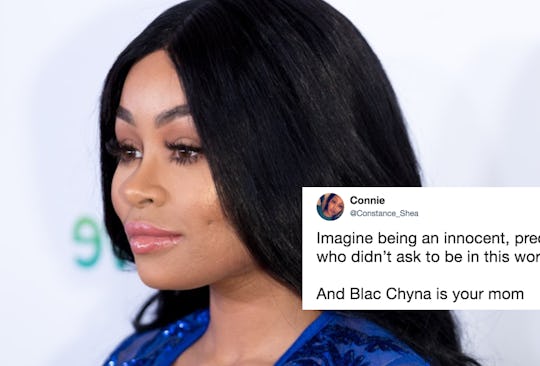 Greg Doherty/Getty Images Entertainment/Getty Images
Reports Of A Blac Chyna Sex Tape Have Surfaced & Of Course, She's Getting Mom-Shamed
After Rob Kardashian and Blac Chyna finally settled the custody battle over their 1-year-old daughter, Dream, the famous ex-couple has remained out of the spotlight. However, as of this morning, Chyna is making headlines once again. That's because reports of an alleged Blac Chyna sex tape have surfaced, and of course she's getting mom-shamed.
TMZ reported that a video of Chyna and a mystery man was leaked on Monday morning via an anonymous Twitter account. Chyna reportedly had no part in the release of the explicit video, according to TMZ, and plans on pursuing legal action against the person behind the leak. Needless to say, someone posting a sex tape without the permission of all parties involved is a huge problem, even if Chyna did agree to being filmed at the time.
"Revenge porn — posting explicit images without the consent of everyone in those images — is a crime, a civil wrong, and a form of domestic abuse. It's also a cruel attempt to slut shame women for being sexual," Chyna's attorney, Lisa Bloom, told Romper. In a tweet posted Monday afternoon, Bloom also pointed out, "Girls have killed themselves over revenge porn. It's not a joke."
Another one of Chyna's attorneys, Walter Mosley, took to Instagram to address the sex tape leak, reported The Mirror. "We have to change this culture of abuse and assault against women," Mosley wrote alongside a photo of himself and Chyna, adding:
Today's post saddens me deeply as it is an attack not only against my client but my friend. Why do we think it's acceptable to sell, or publish, or seek revenge, or blackmail women in this way and without their consent? It's not.
Editor's Note: The Instagram post has since been deleted.
It took exactly two seconds for social media to blast Chyna for allowing herself to be filmed during a sexual act. (Never mind that she didn't intend for the tape to be released in the first place.) "How about don't be a whore........then you don't have to worry about your business being on display," one person commented on the TMZ article.
A fair amount of critics took the sex tape leak as an opportunity to mom-shame Chyna, too. "CHYNA SHOULD NOT BE ALLOWED NEAR HER CHILD.....SHE IS NOT CABABLE [sic] OF BEING A MOTHER...." one commenter wrote. (Yeah, because I'm sure no mother in the history of the world has ever done anything sexual before. *Eye roll*)
Another person wrote, "Pretty sure if my mom had a smex tape with some random guy i'd probably kill myself."
"Making her children proud again," yet another person wrote on the article. Another declared, "Mother of the Year."
Twitter users had plenty of mom-shaming sentiments to share, as well.
This isn't the first time Chyna has been a victim of revenge porn. If you remember, things got pretty nasty back in July when she and Rob Kardashian were splitting. In fact, Kardashian went so far as to post nude photos of his ex — and the mother of his child, mind you — on social media, as People reported. In addition to the revenge porn, Kardashian also accused Chyna of alleged alcohol abuse, infidelity, and drug use, in his Instagram rampage, according to People.
"I was devastated, of course. I'm like, 'How could somebody, like, post these pictures of me?'" Chyna told ABC News in an interview that appeared on Good Morning America at the time. "This is a person that I trusted. I just felt betrayed."
I'm just going to come out and say it: What a woman does in the bedroom has no bearing on who she is as a mother. Period.
Clearly, Blac Chyna did not intend for the explicit video to be leaked. (And even if she did, that's her business.) So can we stop expecting mothers to live up to a rigid set of guidelines? Moms can be sexy. They can pose for nude photo shoots. They can record themselves having sex, if they want. Just because a woman pops out a child doesn't mean she's suddenly an asexual being.
We need to simultaneously stop shaming moms about their sexuality and start acknowledging there's a difference between making a private video and having it leaked without permission.