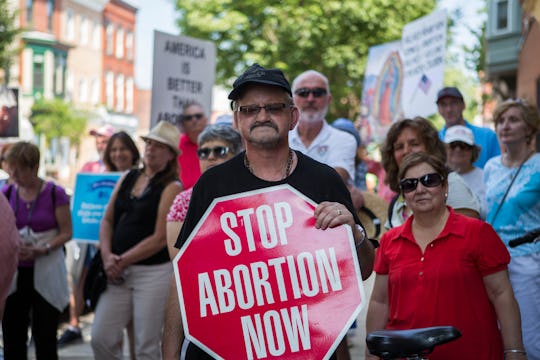 Jessica Kourkounis/Getty Images News/Getty Images
Representative Suggests Rape Is "Will Of God"
During a debate that broke out over an anti-abortion bill at the Oklahoma House of Representatives this week, one Republican representative suggested rape was the "will of God," and implied pregnancy resulting from rape was God bringing forward "beauty from ashes." Rep. George Faught made the argument while supporting his bill, H.B. 1549, which would see doctors who perform abortions in cases of genetic abnormality punished, even if those pregnancies were the result of rape or incest.
The bill would fine doctors up to $100,000 for performing abortions under those conditions and suspend or revoke their medical licenses. According to New York Magazine, when another representative asked Faught whether rape and incest were the will of God, Faught responded:
Well, you know, if you read the Bible, there's actually a couple circumstances where that happened, and the Lord uses all circumstances. I mean, you can go down that path, but it's a reality, unfortunately. ... It's a great question to ask, and, obviously if it happens in someone's life, it may not be the best thing that ever happened. But, so you're saying that God is not sovereign with every activity that happens in someone's life and can't use anything and everything in someone's life, and I disagree with that.
Later, in a written statement to KFOR, Faught explained: "Life, no matter how it is conceived, is valuable and something to be protected. Let me be clear, God never approves of rape or incest. However, even in the worst circumstances, God can bring beauty from ashes."
Faught's bill passed the Oklahoma House with 67 votes, according to KFOR, although many representatives simply abstained from voting on the bill. H.R. 1549 will now go to the Oklahoma Senate to be voted on. If the bill passes into law, Oklahoma would be joining North Dakota, the first state to ban abortion in the case of genetic abnormality in 2013. Indiana tried to do the same shortly after, with Mike Pence — who was governor at the time — signing the bill into law. While a federal judge temporarily blocked Indiana's law, citing Supreme Court protections of a woman's right to choose abortion, North Dakota's still stands.
While the bill may have garnered its share of support in the Oklahoma House, others understandably banded against Faught's logic on social media. One Twitter user wrote, "Wouldn't that mean abortion is God's will, too?" while others wondered whether crimes other than rape and incest counted as God's will, as well.
Those who are worried about H.B. 1549 should call their representatives in the Oklahoma Senate to protest the bill. Because while individuals are allowed to hold whatever beliefs they want, those beliefs should never limit a woman's autonomy over her own body.